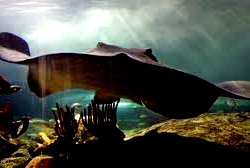 PRAYER ALERT: During a recent prayer session, God showed me a vision which other BPN intercessors have since confirmed (in fact some of them have had similar visions): In the Spirit at night I was approaching the lighted-up harbor of Belize City from the east. I saw under me a long giant gray tail in the water. I looked further and saw that it was a giant stingray seeking to emerge and spread over the city and cover it with darkness, like the giant spaceship covered a whole city in the movie Independence Day.
This sea monster was waiting for the present darkness over Belize City to invite a greater darkness to come. There is an increase in wickedness that is causing love to shrink back, and smoldering lights to be snuffed out (Mt. 24:12, Isa. 42:3) so that greater darkness can approach undetected. This darkness seeks to approach through the powerful delusion of drugs, that drug nightmares might become daily realities. It seeks to darken the sun by day and the moon by night that light would no longer reign (Gen. 1:16-18).
But in prayer our small lights were coming together to make a great light that exposed the sea monster even before it surfaced from the waters. We have interpreted this greater darkness to be drug cartels which seek to dominate Belize City and the nation with their huge armies, much bigger than our Belize Defense Force. But God's army of intercessors can keep this monster at bay, as long as we kept watch over the city by the light of our agreement in prayer.
PRAY WITH US: Father God, You made the heavens and the earth and the sea and everything in them. First of all You said, "Let there be light" and there was light. Your Son is the light of the world, forever, and so are we. "And God saw that the light was good; and God separated the light from the darkness." Let Your light so shine in us that the greater darkness that threatens Belize will flee.
The enemy comes to steal and kill and destroy, but Christ was revealed to destroy the works of the enemy. Expose and frustrate the plans of drug cartels to enter and dominate Belize. While drug gangs in Belize City invite a greater wickedness to come, we invite greater outpourings of Your Holy Spirit that You long to pour out on all flesh, even on gang members.
Instead of an increase of wickedness, violence and grief, let there be an increase of Your righteousness, joy and peace.
Let the joy of salvation deliver gang members from the false joys of drug highs which end in misery and ruin. Let this joy produce new songs of deliverance which drown out the rap songs which used to incite them. Let the joy of the Lord be their strength as they break away from gang bondage into the abundant life You promised. Give them grace to find new relationships with Your people, and honest and fulfilling work. Where sin has abounded, let this grace much more abound. Let their testimonies multiply testimonies of how great is our God. In Jesus' name, amen.