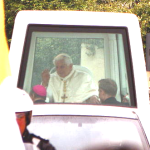 NEWS UPDATE: CNN is one of the networks leading the charge against the Catholic Church's handling of sexual abuse cases. It is grievous that such cases ever occurred, but is less surprising when we consider the rampant immorality in the world today, including in the mainstream media itself. A fair approach would acknowledge that CNN's own vaticanologist (who also serves in that capacity for NPR), John L. Allen, Jr., said that even before Benedict XVI became pope, he zealously led the charge against sexual abuse in the Church. Allen lives in Rome, and specializes in Catholic Church news, and has written two biographies of Pope Benedict XVI. See Allen's quote in the below excerpt from the Wikipedia article which reports the main points in Benedict XVI's history of earnest and diligent prosecution of sexual abuse.
'Prior to 2001, the primary responsibility for investigating allegations of sexual abuse and disciplining perpetrators rested with the individual dioceses. In 2001, Ratzinger [who became Pope Benedict XVI in 2005] convinced John Paul II to put the Congregation for the Doctrine of the Faith [which was led by the future Benedict XVI himself] in charge of all investigations and policies surrounding sexual abuse in order to combat such abuse more efficiently.[147][148] According to John L. Allen, Jr., Ratzinger in the following years "acquired a familiarity with the contours of the problem that virtually no other figure in the Catholic Church can claim" and "driven by that encounter with what he would later refer to as 'filth' in the Church, Ratzinger seems to have undergone something of a 'conversion experience' throughout 2003–04. From that point forward, he and his staff seemed driven by a convert's zeal to clean up the mess".[149] In his role as Head of the CDF, he "led important changes made in Church law: the inclusion in canon law of internet offences against children, the extension of child abuse offences to include the sexual abuse of all under 18, the case by case waiving of the statute of limitation and the establishment of a fast-track dismissal from the clerical state for offenders."[150] As the Head of the CDF, Ratzinger developed a reputation for handling these cases. According to Charles J. Scicluna, a former prosecutor handling sexual abuse cases, "Cardinal Ratzinger displayed great wisdom and firmness in handling those cases, also demonstrating great courage in facing some of the most difficult and thorny cases, sine acceptione personarum (without exceptions)".[149][151]
'One of the cases Ratzinger pursued involved Father Marcial Maciel Degollado, a Mexican priest and founder of the Legion of Christ, who had been accused repeatedly of sexual abuse. Biographer Andrea Tornielli suggested that Cardinal Ratzinger had wanted to take action against Marcial Maciel Degollado, but that John Paul II and other high-ranking officials, including several cardinals and notably the pope's influential secretary Stanisław Dziwisz, prevented him from doing so.[148][152] According to Jason Berry, Angelo Sodano "pressured" Cardinal Ratzinger, who was "operating on the assumption that the charges were not justified", to halt the proceedings against Maciel in 1999[153] When Maciel was honored by the Pope in 2004, new accusers came forward[153] and Cardinal Ratzinger "took it on himself to authorize an investigation of Maciel"[148] After Ratzinger became pope he began proceedings against Maciel and the Legion of Christ that forced Maciel out of active service in the Church.[147] On 1 May 2010 the Vatican issued a statement denouncing Maciel's "very serious and objectively immoral acts", which were "confirmed by incontrovertible testimonies" and represent "true crimes and manifest a life without scruples or authentic religious sentiment." Pope Benedict also said he would appoint a special commission to examine the Legionaries' constitution and open an investigation into its lay affiliate Regnum Christi.[154] Cardinal Christoph Schönborn explained that Ratzinger "made entirely clear efforts not to cover things up but to tackle and investigate them. This was not always met with approval in the Vatican".[147][155] According to Schönborn, Cardinal Ratzinger had pressed John Paul II to investigate Hans Hermann Groër, an Austrian cardinal and friend of John Paul accused of sexual abuse, resulting in Groër's resignation.[152]
'In March 2010, the Pope sent a Pastoral Letter to the Catholic Church in Ireland addressing cases of sexual abuse by Catholic priests to minors, expressing sorrow, and promising changes in the way accusations of abuse are dealt with.[156] Victim groups claim the letter failed to clarify if secular law enforcement has priority over canon law confidentiality pertaining to internal investigation of abuse allegations.[157][158][159][160] The Pope then promised to introduce measures that would 'safeguard young people in the future' and 'bring to justice' priests who were responsible for abuse.[146] In April, the Vatican issued guidelines on how existing Church law should be implemented. The guideline dictates that "Civil law concerning reporting of crimes… should always be followed."[161] The guideline was intended to follow the norms established by U.S. bishops, but it does not require the reporting of "allegations" or crimes where reporting is not required by law.[162]
A TIME TO PRAY: Father God, You are a loving, caring and jealous Father who grieves when You see children abused. Your own Son said, "Things that cause people to sin are bound to come, but woe to the person through whom they come. It would be better for him to be thrown into the sea with a millstone hung around his neck than for him to cause one of these little ones to sin" (Luke 17:1-2). Show Your zeal by coming on predators with deep conviction of sin, so they will stop their sexual abuse and turn to You for radical changes in their lives. Hold media reporters to the same standards since their examples are so highly visible to the world. After Benedict XVI, raise up another pope, as well as more Christian leaders, who will also show no tolerance for immoral conduct in the church, which is so destructive to individuals and to family life. Pour out Your Holy Spirit on all wicked flesh for a new movement of holiness to flood the earth, to cleanse sin for all who receive You, to restore victims of sexual abuse to wholeness, to raise the standards for purity in singleness and faithfulness in marriage, and to exalt Jesus as the desire of the nations. In Jesus' name, amen.
Christian news: sources
http://en.wikipedia.org/wiki/Pope_Benedict_XVI