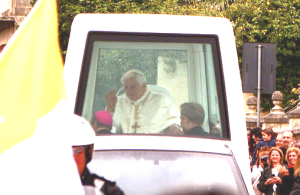 PRAYER ALERT: Pope Benedict XVI, now 85 years old, has announced that he will retire on February 28. There is already widespread speculation about who the next pope will be and what direction he will take. While the Catholic Church and evangelicals do have differences, there is much we can agree on and much we can appreciate Pope Benedict for (see below). We can maintain that only God and His Word are infallible, but at the same time avoid the extreme prejudice shown in old and unfounded charges that the harlot Babylon is the Catholic Church or any religion at all. Nowhere in Revelation 17-18 is the harlot Babylon spoken of as a religion. The only religion that could ever be identified with the harlot Babylon would be one with doctrines exalting money and sex as well as political power—the horns on which she rides (Rev. 17:7-13).
We do know that there will be a great apostasy from the faith (Matt. 24:9-13; 2 Thess. 2:3), but there is nothing in Scripture that says a Catholic pope has to be a part of it. The harlot Babylon is the spirit and symbol of materialistic lust and greed, seducing people into taking the mark of the Antichrist—who outlaws all religions except worship of Him led by the false prophet (13:11:18). The mark allows people to buy and sell in an extreme of the consumerism which Pope Benedict himself has denounced, as especially corrupting to the younger generation: "youths and even children are easy victims of the corruption of love, deceived by unscrupulous adults who, lying to themselves and to them, draw them into the dead-end streets of consumerism."  
Pope Benedict also often criticizes relativism—which "leaves as the ultimate criterion only the self with its desires"—as "the central problem of our faith today." A favorite theme for his preaching has been intimate friendship with Christ.  Like John Paul II before him, he has taken strong and articulate biblical stands for one-man, one-woman marriages and against abortion, immorality and the homosexual agenda. Even before his election as pope in 2005, he was among the most proactive Catholic authorities in investigating and bringing to justice cases of sexual abuse in the church. As pope he has diligently continued this course and affirmed that "Civil law concerning reporting of crimes… should always be followed." And we can be thankful that the Catholic church in general has been at the forefront of the struggle for religious freedom, and against Obamacare mandates forcing religious institutions to provide free insurance coverage of abortifacients, contraceptives, and sterilization.
We also have in common the essentials of the faith as expressed in the Apostle's Creed. When we differ on the place of authority of popes, priests, the saints and Mary, we must remember that the Catholic Church opposes idolatry as much as evangelicals do. If some in the Catholic Church tend to make idols of revered figures, do not some evangelicals tend to do the same?  Let us humbly acknowledge our human faults before each other and emphasize what we can agree on. Let us take a time to pray together to the Father who seeks to make us one with Him and the His Son Jesus Christ.
A TIME TO PRAY: Father God, we are thankful for the only way to You through Jesus Christ, Your only begotten Son. We thank You for loving us so much that You made Him human like us, so that through His death we might die to sin, and through His resurrection we might have new life as Your children. We thank You for the Great Commission that has spread this gospel from a few disciples to us and to the whole world, so that now there are more than 2 billion professed Christians, one half of which are Catholic.  As Your children we are still learning what great plans You have for us, to grow up and "reach unity in the faith and in the knowledge of the Son of God and become mature" (Eph. 4:13).
Forgive us for our sins, and help us be merciful to each other in our immaturity, as we grow into the stature of Your Son. Help us to together represent You to the world which so deeply needs You. Raise up mature representatives whom  we may imitate as they imitate Christ. We thank You for those You have already given us, and particularly for Pope Benedict. We honor him as one who has been faithful to stand for intimacy with Your Son, for the unborn who cannot speak for themselves, for right relationships in marriages and families, and against the immorality, relativism and consumerism which threaten to tear them apart. We ask that You would raise up another Pope who will continue in these paths of righteousness, and meet every challenge of the unbelieving world with the grace and truth found in Jesus Christ. We are still far from being the church You want us to be. But we pray in agreement with Your Son, because we know You will answer Him, in His amazing prayer for all Your children, that "they may be one, just as We are one" (John 17:22). Set the course for this to happen, and conform us more and more to Your will, until Jesus returns for His pure spotless bride, in Jesus' name, amen.
A time to pray: Pope Benedict resigns
Main sources:
http://en.wikipedia.org/wiki/Pope_Benedict_XVI#Consumerism on Pope Benedict
http://onenewsnow.com//church/2012/10/29/catholic-survey-skewed-intentionally-says-priest
http://onenewsnow.com//ap/religion/pope-to-resign-feb-28-says-hes-too-infirm on Pope Benedict
Note: Pope Benedict was appointed Prefect of the Congregation for the Doctrine of the Faith by Pope John Paul II in 1981.