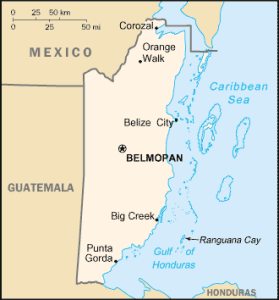 PRAYER ALERT: The most inflammable international issue in Belize—its disputed border with Guatemala—just got a match thrown into it. On March 2 third-party leader Wil Maheia took 200+ volunteers, including many former Belize Defense Force troops, to start marking off the border with machetes. They plan to clear a 3-foot-wide path and make rock-pile markers every 1000 yards. Many never realized until now that there is no clearly defined border in much of the Belizean frontier, except on maps of the entire nation, and in the general terms of still-disputed treaties. But where does that border fall in the jungle? Belize Defense Force (BDF) troops have claimed to know and have been arrested by Guatemalan troops for trespassing. Guatemalans have claimed to know and have been shot at and arrested by BDF troops. More Guatemalans have ignored the issue and made frequent and deep incursions into the sparsely-populated Belizean side, to help themselves to large stands of timber, game animals and gold.
Belizeans are greatly troubled by these incursions. But the Guatemalan government has not stopped them because it claims that most of Belize belongs to Guatemala. Maps in government offices and schools actually show Belize as part of Guatemala. The dispute goes all the way back to Spain's claim to divide the entire "New World" with Portugal in 1494. In the most recent treaty, in 1859, Guatemala consented to recognize Belize and Great Britain (which was in the process of making Belize an official crown colony, to be known as British Honduras), promised to construct a road from Guatemala to the Belizean city of Punta Gorda. In 1940 Guatemala declared that treaty void because the British never made good on that promise. The UN recognized Belize (British Honduras) in its present borders, but on the verge of Belize's independence from the UK in 1981, Guatemala renewed its claim, and Belizeans rioted when they perceived that their outgoing British government was making too many concessions to Guatemala.
Since then, in contrast to the US July 4th Independence Day, Belizeans spend the entire month of September in boisterous Independence celebrations. This year, directly after those celebrations, on October 6, Belize will vote on a referendum on whether to submit its independent status to the decision of the International Court of Justice (ICJ). Guatemala will hold a similar referendum on the same day. If both vote to submit to the ICJ, as the government of Belize hopes, a final ICJ legal verdict would be expected to settle the dispute. But many say Belize already has sovereignty and UN recognition. Why risk that by putting it into the hands of a foreign court? Belizeans who want to assert their sovereignty now greatly sympathize with the 200 volunteers who are marching off, with machetes and GPS instruments, to cut a dividing line between the two nations. But are machetes the best tools for conflict resolution? The Belizean government, not wanting to spark a border war, has refused to support or defend them against expected Guatemalan resistance, or possible mass arrest. The Guatemalan Ministry of Foreign Affairs has express its displeasure with border-cutting project through diplomatic channels to the Government of Belize. This is a time to pray that this initiative ends up bringing more light than heat.
A TIME TO PRAY: Father God, You are the Sovereign and Judge of the whole earth. We submit this dispute to You. Belize in its constitution declares it is a nation "founded on principles that acknowledge the supremacy of God." You have established authorities by popular vote in Belize during the 31 years of its independence. You have protected Belize from foreign homosexual agendas in the courts. You have kept border conflicts from escalating into war. Now move upon those 200 volunteers, protect them, and have Your way with them. The devil wants to stir up antagonists to steal and kill and destroy. You sent Jesus that we might have life and have it abundantly.
Show both nations how to live together and agree on borders that have fallen in pleasant places. Raise up voices of understanding, mutual respect and cooperation. Affirm the commandments that fulfill Your supreme and greatest laws, to love You and to love our neighbors as ourselves. Show us how to clarify our boundaries and how to be good neighbors. Let right relations begin with the churches of Belize and Guatemala, Help them to agree on Your good will in prayer, and see Your will be done in our nations as it is in heaven. We face common enemies in the spread of drug cartels, organized crime, and human trafficking. Good borders can help to stop them. Have Your way with the referendum and, if it goes that far, with the ICJ. Reconcile the voters, judges and governing authorities with Your good will. Bless the peacemakers, and show them how to show these nations Your kingdom ways. In Jesus' name, amen.
A time to pray: Belize, Belizeans, BelizeIndependence, CelebrateBelize, Guatemala, Guatemalan, ICJ
Related sources:
http://en.wikipedia.org/wiki/Belizean-Guatemalan_territorial_dispute
http://amandala.com.bz/news/gob-scare-tactics-fail/
http://amandala.com.bz/news/gob-scare-tactics-fail/
http://amandala.com.bz/news/pgs-wil-maheia-territorial-volunteers-on-own/