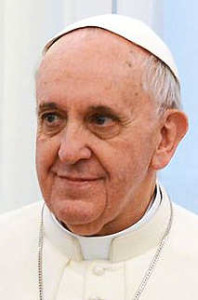 PRAYER ALERT: The mass media has stirred up worldwide commotion by quoting Pope Francis on gays: if "someone is gay and he searches for the Lord and has good will, who am I to judge?" Many are also imputing to Pope Francis on gays what he did not say. Headlines for the Washington Post and the San Francisco Chronicle both proclaim that Pope Francis "won't judge gay priests." Really? Does that mean he won't prosecute priests caught in homosexual acts, as Pope Benedict diligently did?
No, in that same in-plane press conference the pope said he had just investigated one of his trusted aides about a gay tryst that allegedly happened a decade ago. Thankfully, he found nothing to that rumor. In fact, there are many stands taken by Pope Francis on gays quite contrary to the current mass media slant on him. Catholic Online wrote of Pope Francis on gays following his election: "he strongly affirms church teaching on the intrinsic immorality of homosexual practices, though he teaches the importance of respecting homosexual persons. He strongly opposed legislation introduced in 2010 by the Argentine Government to give legal equivalency between true marriage and homosexual partners. He has also insisted that adoption by homosexuals is a form of discrimination against children."
Pope Francis himself called same sex marriage legislation "a move of the father of lies that seeks to confuse and deceive the children of God." But while Pope Francis is not soft on sin, he is merciful toward sinners. So was Christ. So must we all be. If "someone is gay and searches for the Lord and has good will," as the pope says, who are we to stand in between him and Christ? If he receives Christ as Lord, he will become a new man and have his true sexual identity restored. That is why we "must not marginalize these persons, " according to Pope Francis on gays. We must give them every opportunity to find freedom from homosexuality in Christ. (See more below video)


Paul included "homosexual offenders" when he said, "And that is what some of you were. But you were washed, you were sanctified, you were justified in the name of the Lord Jesus Christ" (1 Cor. 6:11). There is a big difference between gays who seek a new identity in Christ and those who seek to push their sinful behavior on others. At the July 28 press conference they also quoted Pope Francis on gays as saying, "the problem is lobbying for this orientation." Jesus Himself said, "It would be better for him to be thrown into the sea with a millstone tied around his neck than for him to cause one of these little ones to sin. So watch yourselves" (Lk. 17:2-3). We must also watch our words. Let us not misrepresent those who speak against sin but speak for sinners who truly seek the Lord. For that is how Jesus spoke (see Mt. 23:13-14).
PRAY WITH US: Father God, You are the Father of all. We thank You for Your Son, the Word of God who became flesh. Your Word created us. Despite sin, Your Word can recreate us again. To all who receive Him, You give the right to become Your children. We honor earthly fathers and pastors and popes. But You are highly exalted above them all. You live in a high and holy place, but also with him who is contrite and lowly of spirit.
You revive the heart of the contrite. You revive the spirit of the lowly. So we ask for a great move on homosexuals, away from deceptive agendas which lead more people into more sin. We ask for those who seek Jesus a great move of Jesus drawing all of them toward Himself. We ask for a massive deliverance from this evil into Your kingdom. You are the desire of the nations. Do not let the gay agenda prevail over them. Do not let their deceptive words move Your church from its righteous foundations. Show the church how to hate sin, but love the sinner into Your kingdom. In Jesus' name, amen.
BPN articles related to Pope Francis on gays:

Belize Constitution or LGBT prostitution: which wins?
Redefining gender in Belize & church response http://belizeprayernetwork.com/2013/06/redefining-gender-belize-church-response/
The church's role in politics Pt. 2

Ban same sex marriage? SCOTUS votes
Sources on Pope Francis on gays:
Pope Francis
New Pope: Who is this man named Bergoglio?
Tags for Pope Francis on gays: Pope Francis, Vatican, pedophile priests, Belize, SCOTUS, DOMA, Prop 8, LGBT, UNIBAM, redefining gender, sodomy legalization, same sex marriage, biblical marriages, healing homosexuals, gay adoptoin
Mass media misinterprets Pope Francis on gays
: