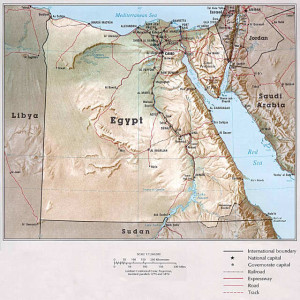 NEWS UPDATE: Egypt's military takeover and crackdown on the Muslim Brotherhood has only increased the ongoing MB persecution of Christians. Since the Arab Spring and the MB's Mohammed Morsi rise to power, persecution rose so sharply that the formerly apolitical Coptic Christians boldly entered the political fray. In retaliation, Morsi supporters "have taken their anger out specifically on Christians because many Christians wanted the Muslim Brotherhood and Morsi out of power and were speaking out, including the Coptic pope," said Jerry Dykstra of Open Doors USA. In northern Sinai last month, a Coptic priest was killed and a Christian businessman was beheaded.
In Egypt's deep south, where Christians are more concentrated, Morsi supporters are waging a hate-campaign with constant demonstrations, graffiti-spraying, and kidnapping of hundreds of Christian teenage girls for human trafficking. The smallest response from Christians can draw the ire of mobs. In the Minya province an argument with a Christian over a pro-military song provoked thousands of Morsi supporters to ransack Christian homes and stores. In the wake of the military crackdown nearly 40 churches have been torched and 23 others have been assaulted and seriously damaged. We must pray that our Christians brothers and sisters will stand firm and faithful against these attacks.
PRAY WITH US: Father God, You live in unapproachable light. We thank you for giving us Jesus Christ, who is the Light of the world. Shine Your light on the sufferings of the people who are called by His name worldwide. Only one world leader is willing to recognize that this is happening. The enemy operates most in darkness, But let Your persecuted people everywhere so shine in response, that the world and its leaders may see their good works, and glorify their Father in heaven. Muslims deny that You are Father.
In Your place they have a cruel god. And that god moves them against Christians, to steal young girls and to kill and destroy. Deliver captive girls from their clutches into safety. Move Your people to overcome evil with good. Give them favor with the new government in Egypt. Give them protection there, in Syria and in Nigeria and Mali and everywhere where they are abused. As you have commanded us, we pray for all those in authority, that Christians may have grace to live peaceful and quiet lives in all godliness and holiness. And through them, that all may know how they may be saved. In Jesus' name, amen.
Related BPN articles for Morsi supporters lash out at Christians:
Putin rebukes Muslim persecution of Christians
Egypt: Arab Spring to Muslim fall from power

Other related article for Morsi supporters lash out at Chrisiians:

Muslim Brotherhood 'taking anger out' on Christians

Tags for Morsi supporters: Egypt, human trafficking, church burnings, Arab Spring, persecution of Christians, Morsi supporters, Egyptian military

Egypt's military has frustrated Morsi supporters