PRAYER ALERT:
While China's top negotiator seeks "creativity" in peace talks with Taiwan, many suspect that peace talks for Syria and Pakistan are only creative means to wage war. In the peace talks for Syria, President Bashar Assad has appeared to make major concessions. He has agreed to a timetable to destroy his chemical arsenal, in order to evade US intervention. But Syria has missed deadline after deadline for destroying chemical weapons, without any consequences.
President Assad has also sent negotiators to the peace talks for Syria where the stated purpose is to remove him from power. But Assad is accused of using the peace talks to buy time while his troops escalate attacks on the opposition. During Jan. 24-31—the first week of talks—nearly 1,900 died in the increased warfare. They include 800 killed in the Syrian military bombardment of Aleppo. And 2,454 have died so far in February, making it one of the deadliest months in three years of civil war.
Of course many of those deaths can be attributed to the opposition, which has shown little willingness to concede anything during the talks. The two sides have not yet even agreed to an agenda. The participation of Russia on the side of Syria, and the US on the side of the rebels, has mainly reinforced their conflicting aims. The longer the peace talks for Syria drag on, the more Assad can gain legitimacy and continue to overpower the fractured opposition.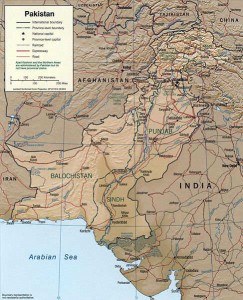 Unlike Assad, the Pakistani government has failed in its efforts to dislodge opposing forces. They include Talibani Afghans and al Qaeda militants who took refuge in northwest Pakistan after the US-led invasion of Afghanistan. The government is now holding peace talks with the largest occupying group, called the Pakistani Taliban.
Despite the talks, the group keeps launching attacks in Pakistan with the aim of imposing shariah law on the entire nation. Some factions in the Taliban oppose any peace talks at all. And the Pakistani Taliban negotiators themselves say "these talks are just lip service" unless they achieve their goals of national shariah law and a Quran-based constitution. These are the very goals that the biggest opposition groups in Syria are fighting for. Can there be any real peace talks with jihadists who say, in effect, give me shariah law or give me death?
PRAY WITH US: Father God, we exalt Your unfailing love which has no conditions for peace except that we receive Your Son Jesus. We thank You that You so loved the world that You gave Him to all of us. He is the Prince of peace and the ultimate desire of the nations. We pray that You will give to these nations now holding peace talks Your wisdom and Your ways. Expose deceptive agendas that prolong war. Unmask Allah as no god at all and as an already defeated foe. Arise against the common enemy of all nations, who seeks only to kill and steal and destroy. Raise up peacemakers who know You, and give them Your solutions where there are no human solutions. Let them confirm solutions that You have already spoken in the ears of these leaders and negotiators.
We thank You that You have put China and Taiwan on an unprecedented path to right relations. Guide the prayers of your growing church in those nations to guide the peace process. We thank You for the many people praying in a largely Christian South Korea for their brothers in a heavily oppressed North Korea. Let Kim's boastful and hostile words against South Korea fall to the ground. Establish and empower words that lead to true peace and reunification.
In the Syrian civil war, 130,000 people—most of them innocent of hostilities—have died. Multiply that number with salvations. For the millions who have fled, pursue them and let them find You as a good and gracious God. For those pursuing war in the name of Allah, give them dreams that reveal Jesus as Lord. Offer them changes of heart and mind. Especially for the negotiators, do miracles in the peace talks for Syria that show them, and the world, solutions that they cannot deny. We thank You that in Syria there is already an agreement to give up chemical weapons. We ask You to powerfully enforce it, and cause the use of other weapons to cease there too.
In Pakistan, expose the lawlessness of those who seek to impose shariah law. Show that the Quran is the basis of tyranny and war and not liberty and peace. Give Pakistanis a taste of freedom, and show that it is Your Son who can set them truly free. And turn schools for learning war and enmity into schools for learning peace on earth and good will to men. In
Jesus' name, amen.
BPN articles related to Peace Talks for Syria:
Peace talks in China & Korea: real dealmakers?

Syria peace talks begin with fighting words

Related sources for Peace Talks for Syria:
Analysis: By agreeing to peace talks, Assad plays for time as troops wear down rebels
Pakistan peace talks: What's at stake as the government tries to negotiate with the Taliban

Tags for Peace talks for Syria: Pakistan, Syria, Assad, chemical weapons destruction, chemical arsenal, US intervention, Aleppo, al Qaeda, Taliban, Pakistani Taliban, Afghanistan, shariah law, Quran, jihadists
Peace talks for Syria undermined by warlike agendas