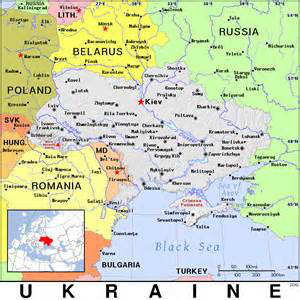 PRAYER ALERT: The day before Crimea voted to join Russia, Russian troops moved six miles north of the Crimean border. They took control of the eastern Ukraine village of Strilkove. Why? It's the site of a natural gas distribution station. Crimea still depends wholly on the Ukrainian mainland for its fuel, fresh water and electricity. Will Russia seize more utilities in the Russia-leaning eastern Ukraine to support its annexation of Crimea? Or will Russia negotiate with Ukraine for services in Crimea till it sets up its own infrastructure there? In short, will this conflict in Ukraine be settled by talks, or by arms?
Both Russia and Ukraine are mobilizing troops and supplies for war. They have agreed to a truce until March 21. Being far outgunned by Russia, Ukraine is pleading with the West for military support. While not ruling that out, the US and Europe are offering political and economic support to Ukraine. The West is using limited sanctions against Russia to try to force it to the negotiating table. Attacks have already broken out in three eastern Ukraine cities. In Kharkiv, two people were killed and several wounded in a shootout. In Donetsk, thousands of pro-Russia demonstrators stormed national security offices, smashing windows and replacing a Ukrainian flag with a Russian one. And in Simferopol, Crimea, a Ukrainian servicemen was killed when his base came under attack. We must pray that no local conflict in Ukraine would ignite a wider and wider war.
PRAY WITH US: Father God, You rule in the highest of heavens. You live inapproachable light. But You are also concerned with the darkest places on earth. You want to shine Your light there. You want us to release Your kingdom in prayer. So we come humbly before You, on behalf of Ukraine. You see a nation deeply divided. Yet you have given it rich minerals and fertile lands which are coveted by many nations. You have given it a strategic location between East and West. You have given Crimea in particular a pivotal place between empires past and present.


Crimea is a dark place, where Your church has grown little. Yet You have done a miracle there. Your missionaries have turned many Tatar Muslims into zealous disciples of Christ. We seek more miracles like that. We ask You to turn this potential war zone into a bridge between East and West. That is what You made it to be. But Your church in Ukraine, which You call to pray, is as divided as the nation itself. It is divided not only between East and West. It is divided within its Orthodox, Catholic and Protestant branches. You want us to pray as Jesus prayed, that Your church become one instead.
So call on Your people who face the prospect of this conflict in Ukraine becoming a widening war. Call on them to humble themselves and pray. Show them they can avert a national, and possibly global, catastrophe. Show them how to be reconciled to Your good purposes for Ukraine. Show them how to reconcile with one another. Raise up the peacemakers. Put down the agitators. Let words of peace stand, and words of war fall. Call on the nations to cease striving, and know that You are God. Extend the current truce into a grace period in which You do great things. For You give grace to the humble. As we humble ourselves in prayer, show Yourself as King of kings, and Lord of lords. In Jesus' name, amen.
BPN articles related to conflict in Ukraine:
Crimea vote for Russia triggers war moves
Civil war in Ukraine, or new rulers?
Ukraine leader mixes repression & concessions
Protesters force Ukraine-EU deal, defy Russia
RUSSIAN MORAL SUPREMACY—IN SYRIA, UKRAINE TOO?
PUTIN REBUKES MUSLIM PERSECUTION OF CHRISTIANS
Related sources for conflict in Ukraine:
Ukraine says Russian forces move outside Crimea

Ukraine Primer III: Crimea's Secession Vote

Tags for conflict in Ukraine: Putin, Obama, Europe, UN, Security Council, conflict in Ukraine, Crimea,  Donetsk, Kharkiv, Simferopol, Yanukovych

Does Putin seek to exploit conflict in Ukraine?