PRAYER ALERT: On April 22 France publicized a new policy to stop its citizens from joining the Syrian rebellion. This is a rebellion that France supports. But France warned that any French citizen returning from Syria could face charges of participating in a terrorist organization. It also banned minors from leaving France unless they have parental consent. On the next day, April 23, the Netherlands warned that European jihadists in Syria pose threats to their home countries. Interior Minister Ronald Plasterk pointed out that 100 Dutch citizens joined the al Qaeda-affiliated Islamic State rebel Syrian faction in 2013. One of them carried out a suicide car bomb attack in Syria. Plasterk said that Dutch citizens have returned from Syria "habituated to extreme violence and…radicalized in their intolerant and violent ideological orientation."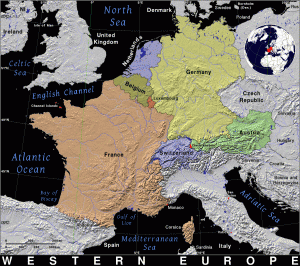 On April 24 Jihad Watch relayed a Russian newspaper report that 1,900 European jihadists in Syria were recruited through social networks and Skype. These 1,900 joined the ranks of the Islamic State and the Nusra Front rebels. They include "366 from Britain, 269 from Belgium, 412 from France, and 249 from Germany and Scandinavian countries." 
On the same day, BBC reported that Wales' top counter terrorism officer warned of Welch humanitarian volunteers getting radicalized while in Syria. In war zones they too often abandon aid programs and join rebel factions. Even more go to Syria with the intent to fight. For that reason the UK has warned that anyone who joins the opposition—whom the UK also supports—will be prosecuted for terrorism. Almost 40 have already been arrested on such charges this year.
Up to 20 Britons have died in the Syrian war. The UK now has a policy for reaching women mostly in Islamic communities. Women are asked to seek advice from UK police if a family member is considering traveling to Syria. But the police will have to explain that their sons cannot join a cause that their government supports…     (Read more: Syrian elections to be held amid worsening war )
PRAY WITH US: Father God, You are the Lord of the heavenly armies. But You have sent us the Prince of Peace. Protect and strengthen those who seek peace. Many live in besieged cities. Millions are refugees. Millions more are displaced by war. Millions depend on aid that war could cut off at any time. Hundreds of thousands have been led to join this war. Show them that Jesus is their only deserving leader. They may not be able to choose their president. But they can choose their Lord. Reveal Jesus as provider, peacemaker, and miracle-maker. Show that He has all authority to overcome all adversity and sin. 
Oppose those who prolong this war. Oppose those who seek to expand it into a jihadist conquest of the region. Oppose the indiscriminate bombing of the goverment. We thank You for the chemical weapons disarmament that we prayed for. We ask that You also keep arms away from the radical rebels. Western powers who are supporting them are learning that they can turn against them. Teach these nations how to subdue terrorists at home, who seek to kill, steal and destroy. 
Give these nations a resolve to stand against any form of Islamic jihad among the nations. And against persecution of Christians. That's what Paul was doing when You knocked him off his horse in Syria. Knock militant Syrians off their war horses. Set a course for the church in Syria to be strengthened and restored. That is the first thing You did with Paul when he left on his second missionary journey. He "was traveling through Syria and Cilicia, strengthening the churches." Only ten years before there was no Christian witness in Syria. Have mercy on Syria, and do a quick work again. Only with You is this possible. In Jesus' name, amen. 

BPN articles related to European jihadists in Syria:

Syrian elections to be held amid worsening war
Syria peace talks begin with fighting words
Peace talks for Syria & Pakistan: war tactics?
Putin to disarm Syrian chemical weapons and arm nuclear Iran
Sudden political shifts in Iran, Turkey, Syria
Putin rebukes Muslim persecution of Christians
22 US embassies close before al Qaeda threats
For global repudiation of Muslim terrorism
Related sources on European jihadists in Syria: 
Despite UN Security Council demands, Syria humanitarian plight worse than ever, report says
More Heavy Weaponry for Syrian Rebels?
Europe has supported terrorists in Syria fully and now say: "Syria Militants pose threat to us."
Approximately 11,000 foreign jihadis in Syria, recruited through social media and Skype
Police fear 'radicalisation' of Wales' Syria volunteers
Tags for European jihadists in Syria: France, Netherlands, Islamic State, Syria, European jihadists in Syria, Europe, Wales, UK, Belgium, Germany, Syrian chemical weapons, syrian rebels, al Qaeda, terrorism, laws against European jihadists in Syria,  jihad, Islam in Europe, Syrian refugees, Syrians under siege, displaced Syrians, barrel bombs, persecution of Christians, Jesus
Keyword: European jihadists in Syria
Subhead for European jihadists in Syria:
New measures taken for European jihadists in Syria