PRAYER ALERT: On April 21 Syria announced that elections for president would take place on June 3 & 4. But how will votes be collected in the midst of a massive war? At this time 262 areas are labelled as besieged. Nearly 200,000 live in areas besieged by the government which is supposed to gather the vote. Another 45,000 Syrians live in areas besieged by the rebels. The sieges are blocking UN aid, despite a Feb. 22 UN resolution calling on both sides to allow greater access. Only 13 percent of all those areas are getting relief. Can we really expect Syrian elections officials to reach them?
Another 3.25 million Syrians have "little access to essential goods and services", according to a UN report. In addition, 5.5 million survive only on UN aid, out of a total population of 22 million Syrians. That 22 million doesn't include the 3 million who have fled the country, in what the UN calls the worst refugee crisis in a generation. They will have no voice in the Syrian elections.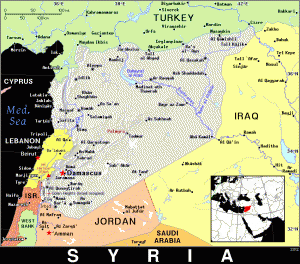 The 6.5 million within Syria who are displaced peoples will also have difficulty voting. They include hundreds of thousands of Christians who are specifically targeted by Islamic groups from both warring sides. Last year Syria rose from #11 to #3 on World Watch's list of nations persecuting Christians.
Why has this war, which has claimed 150,000 lives in three years, been prolonged? First, foreign militants joined the rebellion. Al Qaeda-linked jihadists attacked the more moderate Muslims and now dominate the opposition. They have vowed to expand the war beyond Syria and establish a Sunni caliphate over the region.
But rebel infighting has given the Syrian government the upper hand in the war. President Bashar al-Assad is using barrel bombs on 85 Syrian locations in order to conclusively win it. Apparently he doesn't need the chemical weapons which—the US confirms—Syria has almost completely handed over now that the April 30 deadline is near. The June 3-4 Syrian elections are widely expected to confirm Assad's rule. Clearly, little of the opposition in a position to vote in the Syrian elections.
Despite losing this war slowly but surely, the "moderate" rebels keep getting support from Western powers. The US now considers sending them surface-to-air missiles, known as manpads, to disrupt Assad's barrel bombs. But these manpads can easily fall into the wrong hands. Al Qaeda groups not only routinely take weapons away from moderate factions. They train jihadists recruited from Europe to use them against their own countries. That is why many European governments are now taking measures to stop their own citizens from joining the very rebellion they support…
Read more, and see how to pray about this…  

BPN articles related to Syrian elections:  
Syria peace talks begin with fighting words
Peace talks for Syria & Pakistan: war tactics?
Putin to disarm Syrian chemical weapons and arm nuclear Iran
Sudden political shifts in Iran, Turkey, Syria
Putin rebukes Muslim persecution of Christians
22 US embassies close before al Qaeda threats
For global repudiation of Muslim terrorism
Related sources for Syrian elections: 
Despite UN Security Council demands, Syria humanitarian plight worse than ever, report says
More Heavy Weaponry for Syrian Rebels?
Europe has supported terrorists in Syria fully and now say: "Syria Militants pose threat to us."
Approximately 11,000 foreign jihadis in Syria, recruited through social media and Skype
Police fear 'radicalisation' of Wales' Syria volunteers
 
Keyword: Syrian elections
Tags for Syrian elections: Islamic State, Nusra Front, Syria, European jihadists in Syria, Europe, Syrian chemical weapons, syrian rebels, al Qaeda, moderate Muslims, Syrian elections, Syrian rebel infighting, terrorism, jihad, Islam in Europe, Syrian refugees, Syrians under siege, Assad, displaced Syrians, barrel bombs, persecution of Christians, Jesus
Syrian elections are widely expected to confirm Assad's rule