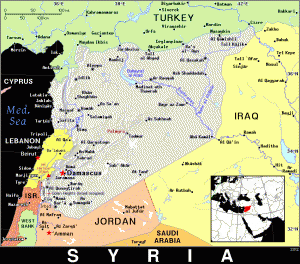 PRAYER ALERT from International Prayer Connect: Hundreds of Iraqi Christians are among those fleeing the areas taken by Sunni insurgents. At least one Assyrian church in Mosul has been burned down in the recent violence. Iraqi Christians particularly vulnerable, especially in the light of the treatment of Christians in the Raqqah province of northern Syria. (In February, ISIS established its authority in Raqqah. Christian community leaders were forced to sign a contract agreeing pay a special tax (known as jizya). They were only allowed to have Christian meetings behind closed doors so as to be neither visible nor audible to Muslims, and Christians were to adhere to Islamic commercial, dress code and dietary regulations.)
Pray: that those who have chosen to remain in the cities would not be subjected to violent or unjust treatment.
Pray: that Christians will not be discouraged and will continue to unite in authoritative prayer for their nation. 
Pray: that Iraqi Christians will know the peace and presence of Jesus each day, and will remain faithful to him and clear in their testimony.
Mosul and the surrounding Nineveh plain is the traditional heartland of Iraq's Christian communities. Many Christians fled to this region when forced to leave Baghdad and other areas in recent years. Iraqi Christians are alarmed at the ISIS take-over bid and fearful that this will further accelerate the decline of the Christian presence in their nation.
Pray: that God will bring about His purposes for this nation and the surrounding areas. 
Pray: that those who are perpetuating the conflict will know the Spirit's conviction of sin and come to understand the depth of Jesus' forgiveness.
A pastor from Iraq sent the following:
'The terrorists have captured many towns, killing and destroying many buildings, burning anything they come across. The internet connection is very slow and sometimes disconnected. Huge numbers of families have already left their residences heading for nowhere. There is a huge need for food, blankets, shelters, medication, care for elders and children. There is a lack of everything. At least a couple of million people are homeless in an extremely hot season topping 122 F. Many have fasted and prayed all dayWednesday for the intervention of the Lord to stop this unrest.'

Pray: for the millions of refugees that need shelter, food, and water; for a swift and well-co-ordinated response from the government, international community and humanitarian organisations.
BPN articles related to Iraqi Christians:

Sunni insurgents in Iraq take aim at Baghdad
Syrian elections to be held amid worsening war
Syria peace talks begin with fighting words
Peace talks for Syria & Pakistan: war tactics?
Putin to disarm Syrian chemical weapons and arm nuclear Iran
Sudden political shifts in Iran, Turkey, Syria
Putin rebukes Muslim persecution of Christians
22 US embassies close before al Qaeda threats
For global repudiation of Muslim terrorism
Sources related to Iraqi Christians:

Tags for Iraqi Christians: Iraq, Syria, al Qaeda, Assad, Iraqi Christians, Sunni offensive, Mosul, Tikrit, Baghdad, Assyrian church, ISIS, ISIL, Raqqah, dimmhi, shariah law, Nineveh, Jesus, Syrian refugees, Iraqi refugees, Kirkuk, Kurds, UN, US, Maliki 
This article was produced in association with www.prayer-alert.net
Contacting the IPC Office:
Email: office@ipcprayer.org 
Amazing Grace Cruz, IPC Administrator
IPC Website (News articles, Prayer Map, Free Resources and information for all ages):
Iraqi Christians persecuted by Sunni militants