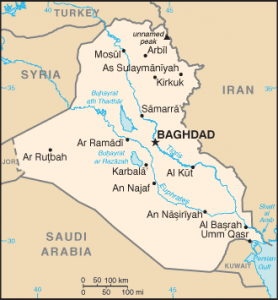 PRAYER ALERT from International Prayer Connect: Iraqi Christians have requested urgent prayer as the situation deteriorates virtually to the point of all-out civil war. Sunni Muslim militants, many aligned with the radical Islamic State of Iraq and Syria (ISIS), an al-Qaeda off-shoot group, began their violent take-over on Friday 6th June. ISIS has full control of the northern cities of Mosul and Tikrit and has this morning seized Saadiyah and Jalawla in the eastern province of Diyala. Meanwhile, Kurdish forces, who are seen as a bulwark against the Sunni insurgents in Iraq, say they have taken control of Kirkuk.

A spokesman for the UN's High Commissioner for Human Rights, Navi Pillay, told Sky News that she is 'extremely concerned' by summary executions, extrajudicial killings and the displacement of more than 500,000 people. By Wednesday 11, half a million residents from the Mosul region had fled from the violence, many attempting to find refuge in the nearby Kurdish provinces of Northern Iraq.  Huge numbers of people have been displaced in other areas.
Pray: that Christians of Mosul, Kirkuk, Baghdad and surrounding areas will know the presence of Jesus, the guidance of the Holy Spirit and the protection of the Father.
Pray: that humanitarian assistance would reach all who are in need, whether displaced or remaining in situ. 
At the time of compiling this bulletin, Sunni insurgents in Iraq have vowed to march on to Baghdad. The Iraqi Parliament has delayed voting on a request to grant the PM emergency powers due to it failing to reach the necessary quorum. Government forces have reportedly launched air strikes against positions held by militants in Tikrit and Mosul. The US says it is considering further assistance to Iraq, without giving details.
Pray: for the government and military to be united and strong in dealing with this invasion and not to be intimidated.
Pray: that they will be able to re-take the cities in the north and western parts of the country that have been overrun.

BPN articles related to Sunni insurgents in Iraq:
Iraqi Christians flee from Sunni offensive 
Syrian elections to be held amid worsening war
Syria peace talks begin with fighting words
Peace talks for Syria & Pakistan: war tactics?
Putin to disarm Syrian chemical weapons and arm nuclear Iran
Sudden political shifts in Iran, Turkey, Syria
Putin rebukes Muslim persecution of Christians
22 US embassies close before al Qaeda threats
For global repudiation of Muslim terrorism

Sources related to Sunni insurgents in Iraq:
Sources:
This article was produced in association with www.prayer-alert.net 
Contacting the IPC Office: 
Email: office@ipcprayer.org 
Amazing Grace Cruz, IPC Administrator 
IPC Website (News articles, Prayer Map, Free Resources and information for all ages):

Tags for Sunni insurgents in Iraq: Iraq, Syria, al Qaeda, Assad, Iraqi Christians, Sunni offensive, Mosul, Tikrit, Baghdad, Assyrian church, ISIS, ISIL, Raqqah, dimmhi, shariah law, Nineveh, Jesus, Syrian refugees, Iraqi refugees, Kirkuk, Kurds, UN, US, Maliki, Sunni insurgents in Iraq

Sudden uprising of Sunni insurgents in Iraq