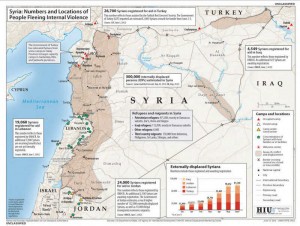 PRAYER ALERT: Before the Syrian war, Syria opened its doors to 1.2 million Iraqi refugees fleeing the Iraqi war. But by 2012, more than a million of the Iraqi refugees in Syria had fled from the Syrian war. More than a hundred thousand returned to Iraq. A total of 217,144 Syrians have escaped with them. Many observers feared that the Syrian war would follow this flood of refugees into Iraq. And it did.
The very name of main militant group that is spreading the Syrian War into Iraq—Islamic State of Iraq and Syria—shows their intention to do so. ISIS has been attacking Iraq long before their June 9 seizure of Mosul set off alarms in the media. In July 2013, ISIS broke into Iraq's Abu Ghraib prison and freed over 500 inmates. It was the finale of a year-long campaign called "Breaking the Walls" meant to increase their ranks with comrades from prisons.
On January 3 2014 ISIS proclaimed an Islamic state in Fallujah, Iraq. Since then ISIS has been taking more and more ground in both countries. ISIS now controls an area overlapping Syria and Iraq about as large as the area controlled by the Syrian government.
ISIS' current campaign is to take over all of Iraq. This leaves refugees in a quandary. Where do they flee now? Back to Syria? The UN calls the humanitarian crisis in Syria the worst in our generation. Secretary-General Ban Ki-Moun says that in Syria 10.8 million people need urgent help. That's nearly half of Syria's 22-million population. And 4.7 million of them live in areas which are difficult or impossible for aid workers to reach.
Furthermore, Syria now calls any attempt to deliver aid to rebel-held areas "an attack on the Syrian state." Ninety percent of aid is delivered to government-held areas. But Syria is trying to kill people in the rebel-held areas, not keep them alive. It perceives any attempt to help them as aiding and abetting the enemy.
The longer the Syrian war goes on, and the further it spreads, the more millions of refugees will be fleeing its advances. As of the end of 2013, this and other global crises had pushed the number of displaced persons to 51.2 million. That is the highest number since WW2, and it is climbing…
BPN articles related to Syrian war: 
Syrian elections to be held amid worsening war 
Syria peace talks begin with fighting words  
Peace talks for Syria & Pakistan: war tactics?  
Putin to disarm Syrian chemical weapons and arm nuclear Iran  
Sudden political shifts in Iran, Turkey, Syria  
Putin rebukes Muslim persecution of Christians  
22 US embassies close before al Qaeda threats  
For global repudiation of Muslim terrorism
Related sources on Syrian war: 

'War's Human Cost': World's population of displaced tops 50 million, UN refugee agency reports
Tags for Syrian war: WW2, UNHCR, global jihad, refugee crisis, Iraq, Syria, displaced persons, Syrian war, Abu Ghraib, Fallujah, UN, Ban Ki Moun, ISIS, Baghdad, Middle East, North Africa, Europe, US, Jesus
Syrian war produces great humanitarian crisis