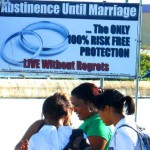 Media & Arts Prayer: Let's face it. Most songs are about romantic love. Even most worship songs are about romantic love for God. The most frequent words in popular songs are "I, love, you, forever", probably in that order. Just about everyone wants someone of the opposite sex to love forever. And wants that someone to love them back forever—or at least "till death do we part." Thus marriage. Marriage affirms before everyone that this one man and one woman are one flesh, as God planned it. A marriage is meant to be fruitful and multiply children. And children need one mother and one father who love each other and who love them. Such families provide the essential building blocks for a nation.
These are the basics of life that the LGBT agenda denies. The Belize government now has a gender policy that is more LGBT-friendly than family-friendly. In September there will be Belize Celebrations of its independence, with music, arts, and events that will be widely covered by Belize media. As the Belize Celebrations are now being organized, let's pray for more music, arts and events that celebrate true male-female love that leads to courtship, committed marriages, and strong families. And no LGBT or sexploitative counterfeits. Only strong families can make a strong nation, under God.
BC-HOP Prayer for Media & Arts 
Wed. 13 August at 7 pm
REMAR Belize, 5 Johnson St./Vernon St. near Bel-China Bridge (secure parking available)
BPN articles related to Belize Celebrations :
For Belize PM to approve God's gender policy
Related sources for Belize Celebrations :
Protecting Traditional Marriage
Tags for Belize Celebrations : Belize, Dean Barrow, Belize Celebrations 2014, Belize Celebrations 2013, Belize Celebrations 2012traditional marriage, LGBT agenda, gender policy, traditional family, Belize Celebrations
Keyword: Belize Celebrations
Belize Celebrations planning now underway
Purpose of Music & Arts—To use creative forms to glorify God, in relevant ways that express divine worldviews, address relevant issues, challenge us to higher levels, and impact growing audiences for His kingdom purposes, with the effect of drawing them closer to Him.
Current Conditions: The variety of music played in Belize includes defiantly obscene and violent songs which are often loudly amplified in the hearing of children. Girls learn provocative dances at very young ages and take on the identity of sex objects. Church music ranges from hymns to contemporary praise and worship songs, but not many produced by Belizeans. Those Christians who do write music have been fusing popular music styles with Christian lyrics, and get some play time from Christian radio stations and PLUS-TV. In worship many are moving from a performance mode to a God-encounter mode, and are getting ready to release new expressions in music that will glorify God and save souls in public venues. Christian drama and worship dance groups are small but growing. Occasional dance and theater pieces are staged in schools or the Bliss Institute. Belizean arts and crafts are mainly geared toward tourists, but are finding increasing acceptance as building décor. Some music and art that is expressive of Garifuna and Maya cultures also draws on familiar spirits and is rooted in witchcraft. Belize needs more pioneers in expressing Christian worldviews in both visual & performing arts. Some of our current pioneers are under-appreciated and misunderstood.