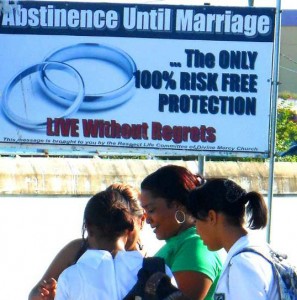 FAMILY & EDUCATION UPDATE: Many parents have not yet registered their child or paid school fees. Yet they suit the child up and send them to Belize schools, where there may be no space in the classroom. Some students have transferred due to expulsion from another school for bad behavior. This behavior is often learned at home from violent and abusive parents. These kids need to get saved. Till they do, pray for God's grace on them to cooperate with teachers for the sake of their future. Also pray for the finances and resources to accommodate these kids without undue strain. And for God to impress on parents to prepare to do their essential parts.
On the other hand, we're concerned that some teachers are prepared—in the wrong way. Some teachers may have planned to enact the new gender policy in their teachings. We must pray that God will sound the alarm to other teachers, and parents too, every time a teacher plans to promote LGBT. Or to attack God's good plan for family headed by a married father and mother. And that PM Barrow will repudiate the pro-LGBT, anti-family parts of the gender policy when he meets with Church leaders on Oct. 3.

BPN articles related to Belize schools:
Belize PM talk with Church on gender delayed
Children at risk in & out of Belize schools 
New Belize church leadership arising 
Belize rape bill follows foreign gender policy 
Related sources for Belize schools:
Protecting Traditional Marriage
Tags for Belize schools: Dean Barrow, gender policy, Belize schools, LGBT agenda, anti-family agenda, family values, Belize schools system, Evangelical Association, Jesus
Keyword: Belize schools
Belize schools open amid September celebrations

Purpose of Family: For a married man and woman to provide for their children a safe and stable home; to show them how to love God, one another, their neighbors, and their future spouses and children; and to support them as they grow in their gifts and pursue their callings 
Purpose of Education—To pass on the learning of past generations and produce students who can assess their developing SHAPEs (Spiritual gifts & callings, Heart passion, Abilities, Personality & Experience), contribute to team-building, and keep learning and solving problems as they arise in the seven mountains of influence on local, national & international levels.
Current conditions: A prevalence of overcrowded, undisciplined classrooms with under-trained teachers, increasingly secular curriculum and lack of parental cooperation, resulting in low grades, high drop-out rates, and student involvement in sex, drugs and violence