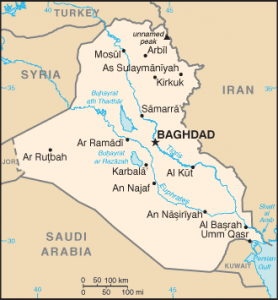 PRAYER ALERT: The recent US airstrikes against ISIS terrorists have come too late for masses of Iraqi Christian refugees. Since June, ISIS has grabbed global attention by seizing large swaths of land in Iraq. It has begun to impose shariah law on these lands. ISIS has demanded that Christians either embrace Islam, pay the tax on non-Muslims, leave, or be killed. In the city of Mosul alone, hundreds of thousands of Iraqi Christian refugees have chosen to leave. Not a single Christian remains in Mosul now.
Where did they go? Not many went west to Syria. The bordering area in Syria is also dominated by ISIS. And Syria already has 6.5 million internally displaced persons. An additional 3 million have emigrated from Syria due to its civil war. The UN has called the humanitarian crisis in Syria the worst in a generation.
Instead of turning toward Syria, most Iraqi Christian refugees have fled from ISIS to northwestern Iraq. But on August 6 ISIS launched a blitzkrieg offensive in that very direction. A day later, they took Bartella, Qara Qost and Karmaleeseast. They also seized the largest dam in Iraq. Their campaign has nearly purged northwestern Iraq of its entire Christian population. The UN says that a total of 200,000 people have fled into Kurdistan, including Iraqi Christian refugees and members of the Yazidi sect.
The media has mostly overlooked two months of severe persecution of Christians in ISIS-occupied areas. But now that the persecution has reached the Yazidis, the media is headlining their plight. An estimated 10,000 to 40,000 Yazidis are taking refuge in the mile-high sun-baked Sinjar mountains. (Their ancient Zoroastrian-based religion holds that Noah's ark landed there.) So many Yazidis are starving along the way, that the US military is dropping tens of thousands of packaged meals and water containers on the Sinjar mountain range.
Both Christians and Yazidis who remain in ISIS' path face horrific consequences. ISIS is taking hundreds of women as slaves. There are reports of ISIS guerillas cutting off hands and heads, even of children. Tractors are being driven over bodies. People are being buried alive. The US, which pulled out of Iraq in 2011, is finally trying to stop ISIS' genocide with airstrikes. It is now directly arming Iraqi Kurdistan. The Kurds have taken back two towns.
But the US says Iraq cannot succeed without a government that represents all the Iraqi people. Shiite Prime Minister Nouri al Maliki really represents only the Shiite Muslims. And so President Fouad Massoum has taken the extraordinary measure of snubbing PM al Maliki. He has called on another Shiite leader to set up a new government without him.
Read more, and see how to pray about these issues…
BPN articles related to Iraqi Christian refugees:
Al Maliki shunned as Iraq leader names new PM
Syrian war follows refugee millions into Iraq
Syrian elections to be held amid worsening war 
Syria peace talks begin with fighting words  
Peace talks for Syria & Pakistan: war tactics?  
Putin to disarm Syrian chemical weapons and arm nuclear Iran  
Sudden political shifts in Iran, Turkey, Syria  
Putin rebukes Muslim persecution of Christians  
22 US embassies close before al Qaeda threats  
For global repudiation of Muslim terrorism
Related sources for Iraqi Christian refugees:

The last Christian flees Mosul as ISIS continues its reign of terror in Iraq
Tags for Iraqi Christian refugees: Fouad Massoum, Haider al Ibadi, al Maliki, Baghdad, Kurdistan, Iraqi Christian refugees, US airstrikes, Islam, shariah law, Mosul, Syria, Syrian refugee crisis, Sinjar mountains, human trafficking, beheadings, genocide, , Shiite Iraq, ISIS, Iraqi Sunnis, Yazidis, persecution of Christians, Jesus
Iraqi Christian refugees flee to the northwest, ISIS follows