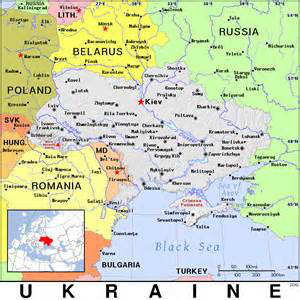 PRAYER ALERT: Why did the Ukrainian civil war happen? Because most of western Ukraine want more trade with the West. Much of eastern Ukraine want to keep ties with Russia to the east. And both the West and Russia want as much influence over Ukraine as they can get. 
Western Ukraine is unwilling to part with the rich agricultural and industrial activity in eastern Ukraine. That activity is now crippled by the Ukrainian civil war. The disruption of supply and shipping chains may destroy 5% of Ukraine's GDP in the latter half of 2014. Also, because of the eastern coal mines, Ukraine is Europe's second biggest coal-producer. Western Ukrainians were planning to rely on the eastern coal mines to wean them from dependence on Russian natural gas. But the Ukrainian civil war has forced many eastern coal mines to shut down. Thermal power plants need that coal to provide 40% of all of Ukraine's electricity. 
Due to the Ukrainian civil war, hundreds of thousands in eastern Ukraine are facing severe water and power shortages. The longer the war goes on, the further this humanitarian crisis will spread. And the more likely the war itself will spread beyond Ukraine's borders. Already Russia has more than 20,000 troops massed at the eastern border. To the west of Ukraine, fearing Russian invasion, Poland is accelerating its missile defense plan. The Czech Republic plans to boost its military spending. To the north, Lithuania, Latvia and Estonia are calling on NATO for more ground troops and missile defenses.  
But NATO's biggest spenders—the US, Britain and France—have strained their military budgets to the limit. And most of the West is now realizing that it faces a much more dangerous foe than Russia. It is a foe they have in common with Russia, as Putin boldly pointed out a year ago. Ultra-violent Islamists are waging wars of conquest for dozens of countries in Africa and the Middle East. They are training Europeans to wage wars of conquest in Europe. Historically-Christian nations in Europe are specifically targeted by global jihad.
Can Russia and the West settle their differences over Ukraine? Competition for trade in Ukraine has led to a widening war, and crippling sanctions which cut both ways. Cooperation in trade with Ukraine can lead to mutual prosperity and a stronger front against jihadist Islam. Islam actually dominated much of eastern Europe—and at times threatened the West—during the 14th-20th centuries under the Ottoman Empire. That was because the Catholic West failed to make common cause with the Orthodox East. Must we see history repeat itself?
There is hope. In the past few days, seven nations—both West and East—have started to engage in peace talks to end the Ukrainian civil war…
Read more…  

BPN articles related to Ukrainian civil war:

Ukrainian rebels blamed for MH17 crash fiasco
Related sources for Ukrainian civil war:
 
Tags for Ukrainian civil war: Russia, Ukraine, Ukrainian civil war, GDP, humanitarian crisis, Poland, Czech Republic, Lithuania, Latvia, Estonia, refugees, NATO, Britain, US, France, Jihad, Militant Islam, Middle East, Africa, Putin, Ott
oman Empire, Orthodox church, Catholic church, Jesus
Keyword: Ukrainian civil war
Ukrainian civil war must be traced back to its roots