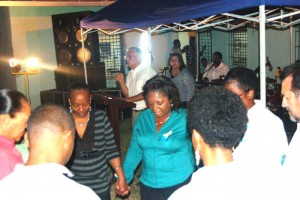 BELIZE JOURNAL PT.1. I have a new online course for intercessors, and I'm looking for early adopters to start it soon. And a WordPress-savvy website adviser to help implement it. Its first title was Building a National Prayer Movement. That's what we're doing here in Belize. A new national leadership of evangelical churches is taking shape. It now represents every district in Belize. It needs a national prayer movement to empower it.
We're starting to circulate the online course on building a prayer movement to leaders and intercessors in each district. It comes in weekly 1-2 page (or monthly 4-8 page) teachings aimed for direct application to prayer meetings. We're challenging people to pray beyond their immediate concerns for their district and nation. Because personal issues are often district-wide issues. And district-wide issues are often nationwide issues.
And nationwide issues are often global issues. God brings these issues home to us in our personal experience. He wants us to pray through them and overcome them. As we do, we gain more authority to pray through them for our district, nation and world. God calls us to be a house of prayer for all nations. Such prayer empowers us to make disciples of all nations. That's why I now call the course Group Prayer for Global Power. 
We can't limit this online course to Belize. I plan to offer its thirty-six 1-2 page teachings to a larger audience next year. This year is a trial run. I'll offer this online course to mostly Belizean intercessors and get their feedback. I'll see the results and improve the course as we go. It will eventually become a book. But it would help greatly to have a website adviser now. He or she could maximize our networking in Belize and set the stage for greater reach in 2015-2016.
If you'd like to be one of the early adopters who helps promote this online course, email me at georgeferrar@gmail.com. If you're Belizean, we'll see how you can network with Belizean intercessors. If you're not Belizean, we can pray about how best to boost the prayer movement in your nation.
It will mean joining or starting a prayer group if you don't have one yet. One great thing about small group prayer is that everyone participates. Everyone has opportunity to pray aloud and grow in their intercessory and spiritual gifts. And God puts no limits on the global power of small groups. "I tell you that if two of you on earth agree about anything you ask for, it will be done for you by My Father in heaven" (Mt. 18:19).
But for lasting global change, or national or even local change, it takes the whole Body of Christ. All of us members need one another and the nations need us. God heals the land only when "My people who are called by My name humble themselves and pray…" (2 Chron. 7:14). The more His people who represent different lands pray, the more lands will be healed. That is why we need to network prayer groups. When groups share God-given revelations for the lands they represent, and pray in agreement, their power to release His kingdom on those lands multiplies.
And so the online course starts with group prayer dynamics. It shows how to motivate more intercessors. It explains how to make the most of prophetic revelations. It describes a seven-mountain networking strategy of covering whole nations with prayer. And much more. Be an early adopter.
Click here for the course outline.
BPN articles related to online course: 
< /span>
Global Day of Prayer—one church under God
Spanish speaking churches urged to join BAEC
Related sources for online course: 
Bethel Church ministries
Tags for online course: global change, group prayer, prayer & worship, Bible, prophecy, group prayer for global power, group prayer dynamics, group prayer guidelines, group prayer strategies, group prayer motivation, seven mountains of influence, spiritual warfare, Global Day of Prayer, Jesus

Keyword: online course
Online course is doing a trial run