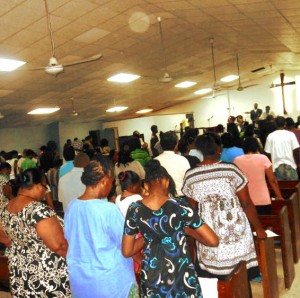 BELIZE JOURNAL, Pt.1: In this transition to the new year 2015, the evangelical churches in Belize are also making a transition into a new national expression. In November the seven chapter chairmen of the Belize Association of Evangelical Churches elected interim national officers. Howell Longsworth, chairman of the Belize District chapter, is president. Scott Stirm, chairman of the Belmopan chapter, is vice president. Victor Hernandez, chairman of the Toledo District chapter, is secretary. Godfrey Usher will stay on as Treasurer.
These interim leaders will prepare the way for general elections to take place in January. In the meantime we will seek as many qualified members as possible. This will take concerted membership drives in all six of our districts. December is a notoriously hectic month. It's ironic that preparations for the Lord's birthday often distract us from the One we're celebrating. They can even make connections with one another difficult when we need each other most. We will have a great opportunity as the new year opens to become a united powerhouse church like never before. So I make the following appeal to the churches in Belize.
God sees His churches in Belize as one church. He calls us to "make every effort to keep the unity of the Spirit in the bond of peace" (Eph. 4:3). This is possible only when churches and ministries—and their leaders—gather together often. The local BAEC chapter facilitates such gatherings. Each of us experiences more of His power when our part of the Body of Christ is rightly connected to other parts. We find that our local church issues are city and district issues, our district issues are national issues, and our national issues are world issues. We have greater impact on our nation and world when we address these issues together in prayer and action.
We want the input and participation of as many churches in Belize as possible so we can better represent the whole body of Christ. That way we can speak with one voice to the nation, which desperately needs to hear what the Spirit is saying to the churches in Belize. We are the conscience of Belize. We are the revealer of the "supremacy of God" enshrined in our Constitution. We are the light of the world. We must not hide the lights Christ gave us in our separate corners of the nation. We must bring them together so that a greater light will show us all much more than we can see by ourselves.
One way to shine this light is via a website. I'm developing one for BAEC which will be online soon. This will enable members and prospective members to keep track of all that's happening with BAEC. They can view our new constitution & code of ethics. They can get updates on news & coming events. They can get all of this instantly translated into Spanish and Chinese and other languages. Pray for us that we may reach, and represent, dozens of Spanish-speaking and Chinese-speaking churches. They are important parts of the body of Christ in Belize. With them we will be much stronger.
Click here for a Christmas message to Belizeans that we can all take to heart.
BPN articles related to churches in Belize:
Children at risk in & out of Belize schools
New Belize church leadership arising
Related sources on churches in Belize:
Seeking new members for a newly reshaped BAEC

See tags for churches in Belize
2015 can be a breakthrough year for churches in Belize