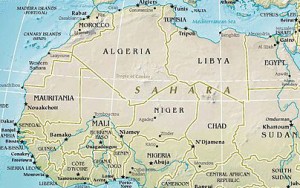 PRAYER ALERT: On January 5 French President Francois Hollande said that French forces will strike Libya jihadists "every time they leave these places where they are hiding in southern Libya." Libya jihadists have developed what France calls a "terrorist hub" in the south. There they spread terrorism to nearby nations. They use arms they have seized in the chaos of Libya's civil war.
Two governments are vying for control of Libya. One, the General National Congress, is controlled by Islamists who imposed sharia law in Libya in December 2013. The General National Congress refused to allow the required elections in January of 2014. In February General Khalifa Haftar ordered the GNC to dissolve but it held onto power. The GNC was backed by most of the Libya Shield Force, composed mainly of Libya jihadists. The Libya Shield Force was formed in 2012 out of various anti-Gaddafi militias spread throughout the country.
In May General Haftar accused the GNC of bringing in from other nations more terrorist groups, including the Muslim Brotherhood. Haftar's own troops tried to force the GNC to dissolve. The ensuing civil war between Haftar's forces and various jihadist militias kept the GNC from blocking new elections in June. A Council of Deputies was elected in a resounding defeat of the GNC at the polls. Still the GNC refused to yield power. It launched "Operation Dawn" to seize Tripoli International Airport on July 13. Two weeks later US evacuated all its State Department staff from Libya to Tunisia. The airport fell to Libya jihadists on August 23.
Since then, the chaos has allowed ISIS training camps to arise in eastern Libya. It has allowed abductions of Christians. As recently as January 3, thirteen Coptic Christians were kidnapped on January 3 in the central city of Sirte, a known terrorist haven. It has allowed arms to flow into the southern Libya terrorist hub, and from there to nearby nations.
Last month African nations held a security summit in Senegal. Leaders of Libya's neighbors appealed to NATO to stop the flow of weapons from Libya. They were falling into the hands of terrorist groups which threatened Chad, Niger, Mali, Burkina Faso and Mauritania. These five nations are former French colonies. France is responding to the call. It did the same in 2014 when it fought Islamist groups in those nations, and in 2013 when it forced al Qaeda-linked insurgents out of northern Mali.
Now France is building a military base in northern Niger, about 60 miles from southern Libya's terrorist hub. It is calling on NATO to help it stop the Libya jihadists north of its five former colonies. But a similar threat is growing from the south. On January 4, Boko Haram terrorists seized a multinational military base in Nigeria, at its border with Chad…
Read more…

BPN articles related to Libya jihadists:
Egypt's Minorities Protest Islamic Oppression
 For world to repudiate militant Muslim attacks

Related sources for Libya jihadists:
See tags for Libya jihadists. 
Keyword: Libya jihadists.
Southern Libya is a hub for Libya jihadists
.