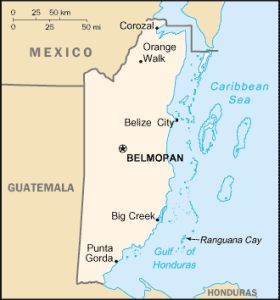 BC-HOP Government & Economy Prayer. Belize and Guatemala soon expect to sign an amendment to the 2008 agreement on their border dispute. Each country had agreed to hold a referendum letting voters decide whether to submit the dispute to the International Court of Justice (ICJ). In 2013 Guatemala backed out of the agreement. It charged as unfair Belize's law that required 60% voter participation for a valid vote. In January 2014 Belize and Guatemala signed an OAS roadmap that prescribed 12 months of preparation for a referendum in each nation sometime in 2015. Belize Foreign Affairs Minister Sedi Elrington said he had no fear that Belize would lose territory if it went to the ICJ. As in the successful Maya Land Rights claim, he said, "this land belongs to us: we have always occupied it."
But observers say Elrington has recently confused the issue. He told fishermen in Punta Gorda that "Belize's borders are not properly identified as they ought to be… Once we have our borders clearly marked and identified, then we will be able to patrol it properly." This statement undermined the breakthrough agreements made on border patrols by Belize and Guatemala in latter 2014. On October 10 Guatemalan diplomats and military brass promised to safeguard the border as is and even to protect Belizeans. On December 17 Guatemalan President Otto Perez Molina made an unprecedented declaration before Central American heads of state in Placencia. President Molina promised that Guatemala "will never constitute a threat to Belize." But Molina may not hold onto office. Massive massive protests are calling on him to step down due to a multimillion dollar bribery scheme concerning customs duties. The scandal has already forced his Vice President Roxana Baldetti to resign.
Belize PM Barrow's government faces a reelection campaign by 2017 which is complicated by corruption charges. But whoever leads Belize and Guatemala in the future, many still maintain that Belize's borders are clearly defined in the Constitution and the Maritimes Act. And that the exact placement of these borders can be identified by GPS machines. This will be critical if ever petroleum or other valuable resources are found near the border.
BPN articles related to Belize and Guatemala.
Related sources on Belize and Guatemala. 
Millions spent on Belize-Guat process, but will dispute ever be resolved?
See tags for Belize and Guatemala.
Keyword: Belize and Guatemala.
Petroleum finds near border may be disputed by Belize and Guatemala.