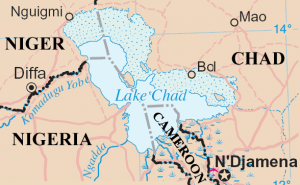 PRAYER ALERT: From the time a mass prison break swelled its ranks in September 2010, until January 2015, Nigeria's armed forces have faced Boko Haram mostly alone. They could not put up much of a fight as the jihadist group took town after town. Since 2009 Boko Haram has killed 13,000 civilians, burned about one thousand churches, and committed thousands of kidnappings of women and girls. It has imposed some form of shariah law in every state in northern Nigeria. But now we see Boko Haram losing ground. The tide began to turn after it seized the multinational military base in Baga on January 4. This put Boko Haram in a position to launch major attacks against neighboring Chad, Niger and Cameroon.
But in late January those three nations joined Nigeria in a coalition to beat back Boko Haram. Nigerian elections were postponed from February until late March so that troops which normally guarded the polls could help in the military campaign. President Goodluck Jonathan eventually lost the election, largely because he had so long been ineffective against Boko Haram. He became the first sitting Nigerian president to agree to a peaceful transfer of power. President Jonathan pledged to "hand over a Nigeria completely free of terrorist strongholds" when his term ends on May 29.
Until he lost the election Jonathan had refrained from attacking Boko Haram strongholds in the vast Sambisa Forest. He had feared killing the thousands of kidnapped girls held in custody there. But in April he used newly-acquired helicopter gunships with accurate firepower to stage air raids on the forest. Ground troops with divisions from Chad and Niger followed up to flush out the terrorists from their hideouts. Cameroonian troops were stationed at Nigeria's borders to cut off escaping terrorists. Now Nigeria's much-maligned military says it has driven Boko Haram from all the towns it once held. With Boko Haram losing ground, the military now aims to stop the scattered attacks the retreating militants are now making on isolated villages. We must thank God for these victories but keep praying for the captives that remain in the militants' clutches.
PRAY WITH US. Father God, You are the Lord of the heavenly hosts. No force on earth can match Your power. We have seen You arise in Nigeria, and Your enemies be scattered. As smoke is driven away, we thank You for driving them away. We thank You for news of Boko Haram losing ground. Bring all their strength to naught. Free all their captives. Bring good news to the afflicted. Heal the broken-hearted. Deliver them from the demons of terror which have shocked some into accepting their captors' lust as love, their abuse as affection, their tyranny as truth.
Do a deep work of restoration in their hearts of the captives. Comfort those who mourn. Give them a garland instead of ashes. Move their families and friends to welcome them home with compassion. Carry their pregnancies to completion. We declare for their children that You are the one who is forming them in their mothers' wombs. We break generational curses. We ask You to expose every claim of the enemy on their souls. Reveal Your superior claims. We break soul ties. We plead the blood of Jesus over their lives. Make them a planting of the Lord, that You may be glorified.
Then they will rebuild the ancient ruins. Then they will raise up the former devastations left by Boko Haram. Then they will repair burnt churches. Fill those churches with new disciples. Fill those disciples with Your Spirit. Lead them to reach their former enemies and convert them thoroughly. Where sin and violence abounded, let grace and peace much more abound. In Jesus' name, amen.
BPN articles related to Boko Haram losing ground.
Boko Haram condemned? Not by Islamic rulers
Boko Haram jihad displaces 250,000 Nigerians 
Nigeria gay ban trumps massacres of Christians
Persecution rises as Islam advances in Africa
Boko Haram brags of Nigerian school attacks

Related sources for Boko Haram losing ground.
Tags for Boko Haram losing ground. Nigeria, church burnings, jihad, Boko Haram, Boko Haram losing ground,  shariah law, Borno State, Chad, Niger, Cameroon, Goodluck Jonathan, terrorism, refugee crisis, BringBackOurGirls, sex slavery, Jesus.
Keyword: Boko Haram losing ground.
Nigeria celebrates Boko Haram losing ground.