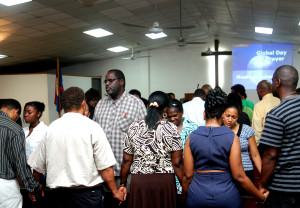 UNITED PRAYER FOR GROUPS:
Father, I admit I am hurt.
And in my hurt I have turned for help to others,
instead of to You.
And when they could not heal me,
in my hurt I hurt others.
Jesus, forgive me for hurting Your Body, and hurting You.
Thank You for taking my sin on the cross.
Thank You for taking my pain on the cross
Jesus, thank You that right now, You are in my heart,
where the hurt used to be.
Now, from Jesus, who is in my heart, I forgive every person who has hurt me.
Jesus is giving me power right now to forgive.
(Now I want you to think of each person who comes to mind who has hurt you, and say
Jesus in me forgives you, Jesus in me forgives you…)
Because I am forgiven, and I can forgive,
I declare myself healed right now.
And I have confidence
to approach the Father right now
for every answer to every need.
Father, I am Your child
I am listening
We are all listening
Speak, for we Your children, are listening to You.
UNITED PRAYER IN CLOSING:
Father, we honor You as the Head of our families.
Jesus, we praise You the desire of all nations.
Holy Spirit, we thank You for Your divine power
To make us witnesses to the ends of the earth.
By the Holy Spirit, in the name of Jesus, we pray to our Father,
On behalf of our families, our nation, and the earth:
Your kingdom come, Your will be done, on earth as it is in heaven.
Give Your daily bread to us, to the poor, and to world's refugees.
Forgive us our trespasses against our families, our churches,
our friends, our enemies, our neighbors, and other nations.
Help us to forgive those who trespass against us,
And to love our enemies as You have loved us,
Even when we have been your enemies.
Lead us not into temptations of sexual immorality, theft, drugs, fear,
revenge, or of coveting our neighbors' land, houses, or possessions.
We trust in You alone to deliver us from the evils of poverty, crime,
violence, foreign exploitation, the gay agenda, and false religions.
Fill us with power to spread Your kingdom, and glorify Jesus in all the earth.
For Yours is the kingdom and the power and the glory forever,
In Jesus' name, amen.
BPN articles related to united prayer.
New Belize church leadership arising
Related sources for united prayer.
Tags for united prayer: Father God, Holy Spirit, Jesus, united prayer, forgiveness, repentance, Global Day of Prayer, Lord's Prayer, united prayer for churches
Keyword: united prayer.
Belize City churches gather for united prayer.