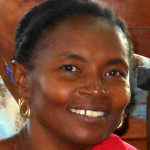 BPN REVELATION: Norma Hynes, leader of The United Prophetic Intercessory Team, Hattieville. Norma shared with me what God had put on her heart for Caye Caulker at this time. We agreed on the following: God is now highlighting Caye Caulker. We must seek His solutions to unrest following the brutal police murder of Hilbert Sotz here. The new police force has committed to more accessibility and accountablity, and better community relations. But the police force faces strongholds that are a long time in the making. Witchcraft and lawlessness all around this island are empowering spirits of rage and defiance. These spirits make police work all the more dangerous and stressful. We must pray to let God arise among us. Christians have tried to cast out these evil spirits. But when the house the spirits left is empty, they can bring back seven worse spirits (Mt. 12:43-45).
Now the spirit of murder has entered in. The Jezebel spirit wants to empower more murder (1 Kings 19:1-2; 21:6-16). When police lack accountability, they will try to get away with immorality, brutality, and murder. To effectively counter them, God's people need to take away any ground that these spirits have gained in our own lives. Christians must repent of any witchcraft, immorality, lawlessness, rage, defiance, and murder hidden in our own hearts. Because any hidden unrepentant sin will eventually break out. The churches must also come together in prayer for the community. We must seek and agree together on the word of the Lord for Caye Caulker. The police have already called on us publicly to lead the charge. It is time for us to arise with God.
God wants to arise here. "Let God arise, let His enemies be scattered" (Ps. 68:1). But God is waiting for His people arise with Him. He wants us to arise and shine, for His light has come. Then a people who have been living in darkness will see a great light (Isa. 9:2). We will experience great healing, salvation, and deliverance. God's enemies will not be able to return when we shine with His light here. Instead, curses will be broken. We will experience transformation. Kings will come to our brightness (Isa. 60:3). Transformation will spread to the nation, and far beyond. A domino effect will cause many to fall on their faces, saying, "God is really among you!" (1 Cor. 14:25). And they too will arise, and will walk in His light.
BPN articles related to Let God arise.
Easter holy days vs. heathen debaucheries
Related sources for let God arise.
Keyword: Let God arise.
Tags for let God arise: Caye Caulker, Belize, police brutality, police relations, new police force, transformation, Jesus, neighborhood watch, police cadets, police relations, witchcraft, sexual immorality, church unity, let God arise.
Let God arise, let His enemies be scattered.
….