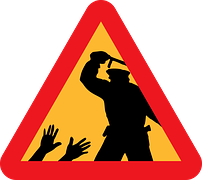 PRAYER ALERT: In the past year, news about police killings of four black males suspected of crimes—in Baltimore, Cleveland, Ferguson and New York City—have exposed some ugly realities. In each case the suspect defied police orders. But that is not a capital offense. Police must make instant decisions on how to force defiant and possibly dangerous suspects to obey. But they must not use excessive force. However, police often get away with excessive force. Until recently, few have been held accountable for beating, torturing or even killing suspects without due cause.
The vast majority of police killings in the US are said to be justifiable homocides of men who imperiled others' lives. But statistics from an April 11 Washington Post article are troubling. Of the thousands of US police killings in 2005-2015, "only 54 police officers were criminally charged as a result, and most of those were cleared or acquitted. The minority who are convicted or plead guilty tend to get as little as weeks and an average of four years of jail time."
Such lenience allows a culture of police brutality to grow in some quarters. Where more police can get away with murder, more police killings can occur. Where most police are white and most suspects are black, more racism can come into play. It works both ways. White cops may tend to see black men as suspicious. Black men may tend to see white cops as vicious. A culture of hatred of cops can grow in some quarters, stoked by inflammatory rap music. In 2014 in the US, 51 policeman were murdered in the line of duty. In the same year, 14 unarmed blacks were killed by police officers.
The recent publicity about police killings have caused many police departments to monitor police arrests much more strictly. But this has also caused many policemen to avoid making arrests at all. In Baltimore the rate of police arrests has gone down by 50% this year. The mostly black-on-black violence has soared. Since May 1, when six officers were charged in the Freddie Gray case, more than 55 have been murdered in Baltimore, the highest rate since the 1970s.
All lives are precious, and must be protected. The solution is not less policing, but better policing. And prayer. The Transformations videos show how crime rates plummet and jails are left empty as a result of united corporate prayer.
PRAY WITH US: Father God, You are the Author of life. Your will is that no man perish but come to a saving knowledge of You. Thank You for sending peace and goodwill from heaven through Your Son. Thank You that He suffered for us to be healed. Thank You that He died for us to have life. Bring Your healing power and life to every community beset by crime and police overreaction. Appoint watchmen to spy out crimes and report them so they can be prosecuted. Convict those who are plotting crimes before they take action. Send angels to arrest those who are tempted toward crimes of passion. Send to them evangelists with the readiness that comes from the gospel of peace.
We ask specifically that You bring true comforters to Hilbert's family. As they open their hearts, heal their pain. Show how his death need not be in vain, but can work to expose & uproot the secret culture of police brutality. Thank You that already the community is resolved to make right what is wrong in the police force. Do not let bitter roots to grow up to defile many. Bring peacemakers to sow peace and raise a harvest of righteousness instead. Set a course for right relationships between communities and the policemen assigned to protect them. And show us how to value each precious life, and to make the most of our time on this earth. In Jesus' name, amen.
BPN articles related to police killings.
Related sources for police killings.
Thousands dead, few prosecuted
Keyword: police killings.
See tags for police killings. 
Police killings jeopardize community relations.