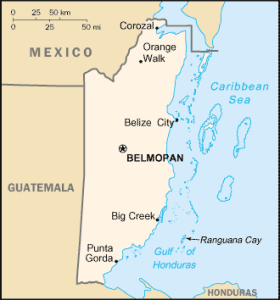 PRAYER ALERT: Belize authorities are on high alert for the possibility that Sinaloa cartel druglord El Chapo Guzman has fled to Belize. The US has identified several Belizean businessmen with Sinaloa connections. Belize officials have broadcast an all-points bulletin. They are using intelligence surveillance to monitor possible places of entry and passage in Belize. Mexico has offered $3.8 million for information leading to the capture of El Chapo Guzman. The US has offered $5 million. But El Chapo is likely surrounded by a tight circle of armed bodyguards and so would be extremely dangerous to approach. He is said to be ultimately responsible for some 34,000 deaths in Mexico's drug war.
Sightings of El Chapo Guzman should be reported to the 922-TIPS hotline in Belize, or to 1-877-WANTED2 in the US. While he is probably in Mexico under heavy security in Mexico, at least one of his associates has used Belize as a transit point before. Our border security is light, and so is our prison security in some places. This was demonstrated in the jailbreak of six Honduran illegal immigrants from the Benque Viejo del Carmen police station on July 7. They apparently used a heavy object to knock a hole through the cell wall to make their escape. We must pray for increased human and angelic watchmen in Belize to thwart any effort to spread drug cartel domination here.
We must also pray for Guatemala. Already 25% of the money behind Guatemalan politics comes from crime syndicates—mostly drug traffickers. Another 50% comes from government contractors. These figures were reported by the UN's International Commission Against Impunity. The ICAI also urged that Edgar Barquin, former head of Guatemala's central bank, be stripped of immunity for laundering political funds, many of which came from drug trafficking. Barquin is the current vice presidential candidate for the Renewed Democratic Liberty party, which now leads in the polls. The problem is, Guatemalan law grants lawmakers and candidates immunity from prosecution. Too often laws protect criminals and expose the innocent to their oppression.
PRAY WITH US: Father God, You created this world to be good. But man's wickedness, corruption and drug dealing have turned it awry. Druglords have risen in riches and power to pervert high places in government. But You know how to bring them down. You have caused the fall of many druglords in Mexico. Yet others have risen in their place. Some, like El Chapo Guzman, have surfaced again with broad government complicity. They are threatening weaker nations like Belize and Guatemala. Their quest is to dominate Latin America. Thay are not unlike jihadists who terrorize the Middle East and North Africa.
But You will have the final say. One day You will destroy Your enemies. You will do so by the breath of Your mouth and by the splendor of Your coming. Warn them that You are watching them. Warn them that You will justly prosecute and punish them forever for every one of their atrocities. Show them that their only hope is the cross. Their only hope is Your Son whose punishment can bring them peace. Who offers them amazing grace. But His grace will expire on a date they do not know. Urge them to turn from their wicked ways now. To run to Jesus before it's too late.
In the meantime, work what they mean for evil to the good of those who love You. Hear our cries for deliverance from evil. Destroy the devil's work. Stop drug trafficking in its tracks and release messengers of Your gospel. Pour out on all flesh Your Spirit who is more powerful than any drug. Free men from every addiction except for dependence on You. For in this world we will have tribulation. But we can take heart, for You have overcome the world. Build a prayer movement which will overcome the devil's influence in every level of government. Raise up in those places Your people with Your plans to prosper and not to harm. For we have a great hope and an assured future in You. In Jesus' name, amen.
BPN articles related to El Chapo Guzman.
Related sources for El Chapo Guzman.
Is "El Chapo" hiding in Belize?
UN: Criminal groups fund 25 percent of Guatemala's politics
Keyword: El Chapo Guzman.
See tags for El Chapo Guzman.
El Chapo Guzman has connections in Belize.
…