PRAYER ALERT: A plague of Sargassum seaweed is hitting Belizean shores. It is raising a stench which is driving tourists away. This sickly brown algae normally drifts in from the Sargasso Sea for one month at a time. But now it has been accumulating for more than nine months. It is crowding the shores and stretching out to the piers.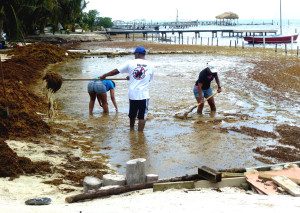 As I prayed, I saw that this is the condition of many carnal Christians in Belize. Too many are rootless and adrift. They are tossed back and forth by the waves. They are blown here and there by every wind of teaching and by the cunning and craftiness of men (Eph. 4:14). They accumulate in churches but remain spectators. They never get far beyond the entrances or "shores". They are pushed together by waves and chafe at each other with constant infighting. They grind at each other till they turn into dead mush, emitting a pervasive stench which drives away true seekers of God.
But there are Christians who refuse to get enmeshed in spectator Christianity. They have pressed beyond the drifting waves and the shifting sands. They have found good soil on which to "grow up to Him who is the head, even Christ" (Eph. 4:15). Still, they are grieved by the smell of death blowing in from the entrances.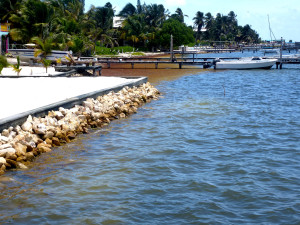 There is a remedy. Some beachfront owners are extending their territory further out to sea. They are building seawalls that the seaweed won't cling to as it drifts into untended pockets of the shore. They are expanding their piers to welcome incoming guests. They are transplanting healthy plants onto their extended territory and giving them room to grow. And they are raking up any seaweed that collects to use as fertilizer for the healthy plants. The healthy plants stand out all the more when compared to the dead weeds at their bases.
In the same way, churches gain strength when they contrast death with growth, carnality with maturity, spectators with activators, and infighting with outreach. The clearer the contrast, and the sharper they draw the line, the less room there will be for carnal Christianity.
PRAY WITH US: Father God, You are Master of the universe. You tell us to watch the signs of the times. The plague of seaweed on Belize's beaches has become unavoidable. It is the first thing that many visitors see—and smell—when they enter the country. It is like the plague of carnal infighting in Your church. It has become so obvious and so noxious that it is driving both insiders and outsiders away. We ask for relief from both plagues.
We thank You for the blood of Jesus which is mighty to cleanse Your church. We thank You for Your living Word which judges the thoughts and attitudes of the heart. Do not let Your people get away with fomenting strife and division. Convict them of the need to repent and forgive. Help the leaders find a course correction toward reconciliation. Discipline those who refuse to cooperate. Warn them of the dangers of discord, selfish ambition, dissensions, factions and envy. Those who practice these acts of the sinful nature cannot enter the kingdom of God.
Raise the standards of discipleship, maturity, peacemaking and soul-winning instead. Give great grace and peace to those who choose Your ways. Promote those who are showing good fruit. Call Your people into humble united prayer to heal our land. Clear our church entrances of stumbling blocks and clear our shores of seaweed. And help us prepare the way for a great incoming of true converts and true disciples. In Jesus' name, amen.
BPN articles related to seaweed.
Related sources on seaweed.
Keyword: seaweed.
See tags for seaweed.
Seaweed has been accumulating for many months.