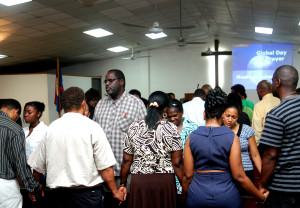 BC-HOP Spiritual Life & Media Prayer. Two Christian publication voices are helping believers to track what God is doing in churches and ministries around the nation. One is a brand-new monthly newsletter, The Voice. Its first issue features the recent Vessels Revival Fire conference and the Men's Rally in the Cayo District. It follows the Christian music band R1pple 3ffects' Giant Slayer Tour of Belize. It recaps highlights of the Global Day of Prayer of May 24, 2015. It also has articles on the En Croix School of Performing Arts, Port Loyola Calvary Chapel, and Hope For Life pregnancy center. Let's pray for the maximum impact of the Kingdom of God through these ministries and this newsletter. Contact johnelle_mckenzie@yahoo.com.
Another is the more-than-monthly Belize Mobilization of Christian Missions email alerts. BMCM tracks Belize missions trips to other nations. It promotes multi-church events in Belize, and other Christian news. The latest email includes the second half of the 30-Day Prayer Schedule. Dozens of Belize City churches are participating through August 21. There is at least one prayer venue in a different church daily! All this is important for members of the Body of Christ. We must know and cooperate with what the rest of the Body is doing! Contact bzemobicm@yahoo.com.
Read a vital prophetic word that has emerged from the 30 days of prayer…
BPN articles related to voices.
Related sources for voices.
See tags for voices.
Keyword for this article: voices.
Voices we need to hear and pay attention to
.