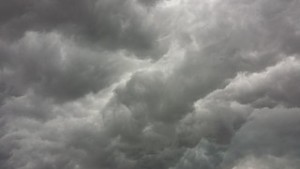 BC-HOP Prayer for Government & Economy: Belize City floodwaters. Since this past weekend low pressure weather sitting on the Bay of Campeche have dumped clouds full of rainfall on central and northern Belize. Ten inches fell on Belize City within 36 hours. The two main highways into the city were swamped with floodwaters. Drains quickly clogged up with debris. Streets became rivers, pouring into low-lying homes. Some houses collapsed. Hundreds were evacuated into shelters. Many residents had to swim or paddle through dangerous floodwaters to get anywhere. A nine-foot crocodile was captured behind the nation's largest hospital, KHMH, to prevent him from capturing anyone else. A fallen electrical wire started a fire on Supal Street. It swept over a building and caused several cars to burst into flames.
Elsewhere in Belize, people living along waterways and low-lying areas were warned to move to high ground. The downpours are expected to lessen today and tomorrow. We must pray for dry weather to allow people to return to homes. For the Lord to knock on their doors, speak to them, and show them how to recover. Pray for Him to heal the wounded, fix what was damaged, and restore what was lost. For Him to raise up repairers of the breach and restorers of the streets in which to dwell (Isa. 58:12). And for Him to show them how to build their lives on the rock of revelation which cannot be shaken…
BPN articles related to floodwaters.

Related sources for floodwaters.
Heavy Rains Affect Residents in the Old Capital
Keyword: floodwaters.
Ten inches over rainfall cause floodwaters in Belize City.