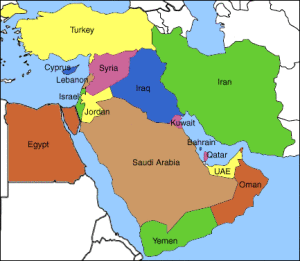 PRAYER ALERT on Saudi Arabia-Iran clash. On January 2 Saudi Arabia executed Shiite cleric Sheik Nimr al-Nimr with 46 others on terrorism charges. It was Saudi Arabia's biggest mass execution in 36 years. Saudi Arabia is cracking down on dissidents in the midst of controversies over the drop in oil prices and succession issues in the royal Saud family. Al-Nimr was an fiery outspoken critic of Sunni-dominated Saudi Arabia's policies toward its Shiite minority. But he had denied inciting violence.
Shiite-dominated Iran's Ayatollah Ali Khameini immediately declared "divine vengeance" on Saudi Arabia. Hours after al-Nimr's execution Iranian protesters ransacked and set fire to Saudi Arabia's embassy in Tehran. The attack clearly had official approval. The Saudi Arabia-Iran clash escalated as the Saudis barred travel to Iran and cut off commercial ties. On January 3 Saudi allies Sudan and Bahrain said they would sever ties with Iran. Today the United Arab Emirates announced that it was downgrading diplomatic ties with Tehran.
The Saudi Arabia-Iran clash had been growing in the past four years. They have taken opposite sides in the violent Sunni-Shiite conflicts in Syria, Iraq, Yemen, Lebanon and Bahrain.
PRAY WITH US. Father God, You are Lord of all nations in the earth. As You said, the descendants of Ishmael have become a great Arab nation. You said that Ishmael would live in hostility toward all his brothers (Gen. 16:12; 17:20). The Arab nation is united against your chosen people Israel. But they are divided against each other. We pray that You will:
Protect civilians who are caught in the middle of the Saudi Arabia-Iran clash and other Muslim militant conflicts (Ps. 91:1-7).
Show that Islam will never bring peace and freedom but only more combat and oppression (Mt. 26:52).
Show that they can find peace in the Prince of Peace. Show that they can find freedom in the Son who sets them free. Show them how to live in Your peace and freedom individually. When God is for them, who can be against them? And how to live in Your peace and freedom collectively. Once they embrace Your peace and Your government, they will increase and have no end (Isa. 9:6-7; Gal. 5:1; Rom. 8:31).
Show that the only government that will last is the Kingdom of God. And that the Kingdom of God is near them, in Your Son Jesus (Mt. 4:17).
DailyInsight. Victory won for a divided people will soon be lost in the division (see 2 Sam. 19-20).
BPN articles related to Saudi Arabia-Iran clash.
Related sources for Saudi Arabia-Iran clash.
Keyword: Saudi Arabia-Iran clash.
New fuel to the fire in Saudi Arabia-Iran clash.