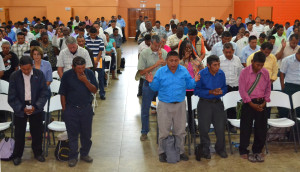 BELIZE JOURNAL on evangelical churches. On February 29, 215 pastors and ministry leaders attended the NEAB annual meeting at the Belmopan Civic Center. They represented evangelical churches from all six districts of Belize. About 150 were from the Toledo District alone. President Lance Lewis hit the keynote with his message on man's stewardship as extending God's dominion on earth. Church Senator Ashley Rocke sent a message to all that he was sorry he could not attend, but prayed that our endeavors be successful.
And many endeavors are being planned at this time. Pastor Natalie "Dawn" Bowen announced the fifth Halal Intercessory March in Belize to take place in the Cayo District on March 19 (contact 610-2124). Vanessa Peyrefitte shared how last year God gave her a vision of worship dancers in the streets followed by intercessors. Her vision was to take it to every district of Belize. Already the Halal ("exuberant praise") March has passed through Belize City, Dangriga, Orange Walk and Corozal. Evangelical churches have participated in each location. Vanessa believes it will break up fallow ground for a future harvest.
John George of YWAM spoke of the #50-17 Initiative (600-2960). #50-17 stands for the 50% of Belizeans who are age 17 or younger. We need to target them through outreaches to schools, sports events and other venues. If they catch fire for God now, Belize will become a light on a hill for the rest of the world to see. Ulanda Jones shared how Child Evangelism Fellowship is spreading the gospel to kids and initiating take-home discipleship follow-ups (605-1410, 601-4912).
Eric Maas of Young Life (610-0210) called on local leaders to find more venues for reaching youth. We must reach them where they are now. We must win the right to be heard. Not to pull Christian youth out of our evangelical churches for this, but to pull non-Christian youth into churches to get discipled. We can be the bridges to their future in God's good will. Dr. Sabido from the Ministry of Health earlier related how cervical cancer affects females of all ages, with a prevalency rate of 21 percent–higher than breast cancer. The Ministry will soon roll out a programme targeting Standard 4 children who are at risk even at that early age.
Evangelist Derrick Pitts spoke of the EHC campaign (602-0451). Every Home for Christ plans to bombard every home in all Belize with the gospel. This includes mass-produced comic strip versions of the good news. It will be followed by mass-produced discipleship materials. Every home will have a chance to hear His voice, open the door and let Christ in.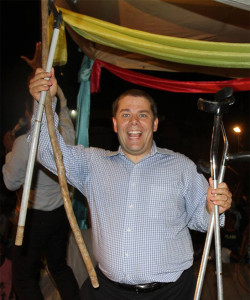 Pastor Ruth Pipersburg shared on preparing the way for revival to come to Belize. In mid-March a team of evangelists will hold planning meetings for pastors and ministers. Evangelical churches will strategize together for a Festival of Hope in July 2017 to spark revival in every district (622-0123). These events will include music concerts, X-treme sports, fun, games and the gospel message. They answer the question in Isaiah 66:8. "Can a land be born in one day? Shall a nation be brought forth all at once? Yet no sooner is Zion in labor than she gives birth to children." This can happen in one day. God can do even more when we labor together for a year. Pastor Ruth encouraged us to keep praying that the Belize District be brought into all the good works God is beginning nationwide.
NEAB Secretary George Ferrar introduced our neab.info website to help us keep track of all the above NEAB activities and more. He showed our neab.info website on the stage screen. The website can attract new members, orient them and keep them informed. It has application and recommendation forms in both English and Spanish. It has our statement of belief, code of ethics and governing documents. Our neab.info website has a "Translate" button to instantly display its pages in English, Spanish, Chinese and five other languages. It has newsworthy articles, photos, a calendar of events and updates. Keeping informed in these ways will help us all better fulfill our vision of mobilizing as many evangelical churches as possible for maximum impact of the Kingdom of God on Belize.
Read more on NEAB's statement on decriminalizing marijuana…
#DailyInsight. A nation's greatest hope is a praying church with members who disciple that nation in every arena (See Neh. 1-9).
BPN articles related to evangelical statement.
War on drugs scores big victories in Mexico.
2nd top Mexican drug lord caught in 5 weeks.
25 Drug Lords Fall, Power Struggles Follow.
Belize surrounded by growing drug smuggling.
Latin American leaders consider marijuana legalization.
Related sources for evangelical churches.
Keyword: evangelical churches.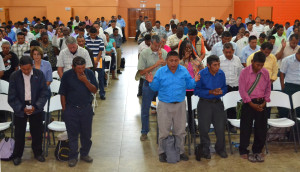 Meeting rallies hundreds of evangelical churches.