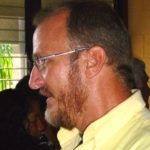 BELIZE JOURNAL PT. 1 on Garifuna Christians. The National Garifuna Council of Belize recently demanded an apology from Pastor Scott Stirm of Jubilee Fellowship, Roaring Creek, for offending their people group. Garifunas (officially known as Garinagus) are descendants of Carib, Arawak and West African peoples, who settled in Belize in 1832. On a video recorded in an Arizona church, Stirm had repeated the testimony of one of many Garifuna Christians. This Christian woman was invited to a "family reunion" which turned out to be a "dugu" ceremony seeking to contact ancestral spirits. She was the only one who did not fall to the ground in fear of those spirits. She looked up to heaven and said, "I am under the covenant blood of Jesus."
Partly as a result of this testimony, the priestess who conducted the dugu later gave her heart to Christ and burned all her books on sorcery. The same priestess testified at a Garifuna conference that these were not spirits of their ancestors, these are demonic spirits. Stirm apologized for any perceived personal offense, but stood on the truth of the Bible against such practices in any culture. The NEAB and Garifuna Christians stood with him at a press conference earlier this month. Here are some edited excerpts from that press conference.
Lance Lewis, President of National Evangelical Association of Belize (NEAB). Evangelical Christians have the right to remain within their culture but not to abide by the spiritist and ancestral aspects of their culture. In this country where there is religious freedom, Christians have the full right to speak from evangelical convictions. The National Garifuna Council's demand for an apology from a leader who spoke from his religious convictions in a church service is extremely inappropriate and misplaced in the context of religious freedom. We eagerly look forward to any forums or dialogue and discussion in the context of mutual respect and religious freedoms. With all love and respect for all cultures in Belize, we say we want to reach everybody for the best for the nation and for the glory of God.
David Diego, Chairman of Corozal Garifuna Council, VP of Corozal Chapter of NEAB. I have known Pastor Scott Stirm for over five years. He is not a racist or someone who discriminates. He is a people's person and a true warrior for the Word of God. There are people out there who have ulterior motives. They want to cause mischief for Pastor Scott. We ought to look at these things holistically. God created each of us in His own image. Our fight is not against men or flesh and blood. It is against the powers of darkness in this world. God has not given us a spirit of fear, but of power and of love and of a sound mind. We must not give in to fear in these perilous times. People may try to divide us. They may try to strike the shepherd and scatter the sheep. We look to Scott as a shepherd. But these sheep will not scatter. We will continue to stand firm together. We will continue to believe that all things work to the good for those who love the Lord. If God be for us, who can be against us? As for Scott, I applaud his efforts as a true warrior for Jesus Christ.
Victor Enriquez, Chairman of NEAB Stann Creek Chapter. I am a Garifuna pastor from Dangriga. We need to understand that the train needs to be broken. It's been going on too long. We as Garifuna Christians put aside belief in power of ancestral spirits. It is time for all of us as Garifunas to break that power. If you tell me that after your parents die, they will come back and do inflict all kind of things on you, I don't think so. That's the devil in disguise. He will disguise himself in any form just to get to the weaklings. God is the head and no one else. So many still believe in ancestral spirits. What do they get out of it? Nothing. People are spending money foolishly on activities for the dead.
The Bible tells me, once a man is dead, he is buried. A dead man doesn't eat or drink. People make money off this activity, We need to get away from it. As Garinagu, let us open our eyes. See how God can bring us out of this. Without Him we will continue to struggle. We must pray that God will break the power structure that the devil has set up. The devil's accomplices even use the word of God to do this evil. The devil will also come in any form, through family members and even a dog. So get away form his activity. No sorcerers will enter the Kingdom of God. You can only serve one master, the devil or God.
Felipa Apolonia, teacher and evangelist. As a born again Christian who is a Garifuna, I agree with everything that Scott said. The word of God will bring offense who don't know truth. This my story as a woman who is one of many Garifuna Christians. When I was 14, my brother arranged for a mass for our father who died. There was a big bowl with food that our father liked. My sister gave me a pineapple and told me to set it on the table. Then she told me to peel it for him. I said if our father wants this pineapple he can peel it himself. Maybe I was being sarcastic. Other people there said, "She is being rude. Something will happen to her."
When we went into the house, they started doing a dance. As a Christian I knew that something was wrong with this picture. But I started dancing. Then I fell on the ground. I looked unconscious to my Mom and my sisters. But I know that deep in her heart I knew God, and I was praying. A woman started sprinkling rum on me, blowing rum on me, to get me out of wherever I was. They were asking my dad to leave me alone. My Dad loved me when he was alive, so I don't see how he would harm me.
Deuteronomy 18.9-14 summarizes my belief about spiritism. Anything in this world, if it's not of God, it's either from your flesh or from the devil. I do not hate people, I love people. But I hate the devil with a passion. I also know that God loves Belize. For all of the media out here: when was the last time Belize was attacked by a hurricane? We have been spared because people are praying to God for this nation.
We have a mandate from God. I will not sit here and allow people to derail truth. Pastor Scott was led by God to say what he had to say. And I say to you from my heart, Belize is sacred to God. Anything that is not of God is of the devil. Anything you put ahead of God is an idol. And God hates idolatry. To young people and the media: the word of God will bring conviction to your heart. If you want to see Jesus, call evil what it is. Don't blame the devil for what you do. As human beings we have choices. I choose to let go of anything in the Garifuna culture, and everything else, that is contrary to the word of God, so that others will know the God that I serve.
DailyInsight. Evil spirits take full advantage of attention from the naive & would do much worse if not for God's mercy (see Num. 25).
BPN articles related to Garifuna Christians.
Related sources for Garifuna Christians.
4/1/16 NEAB press conference responding to National Garifuna Council.
Keyword: Garifuna Christians.
See tags for Garifuna Christians.
Garifuna Christians uphold biblical truths.