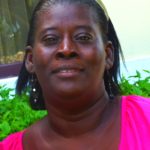 BELIZE JOURNAL PT. 1 on Garinagu culture. Felipa Apolonio, Belizean Teacher and Evangelist. On being a Christian in the Garinagu culture: "Almost every ethnic group has traditional and cultural practices that are contrary to my beliefs as a Follower of Christ. I will never attend any of those functions because of my belief in God. There are many spirits in this world. I am sure the only spirit with all the power that can defeat these spirits is the Holy Spirit. Christians in this nation who fear God will need to let go of anything in their culture that opposes God. This does not only apply to the Garinagu culture but to any culture. They will need to renounce all the spirits that they place ahead of Jesus Christ.
"Deuteronomy 18:9-14 says, "When you enter the land which the Lord your God gives you, you shall not learn to imitate the detestable things of those nations. There shall not be found among you anyone who makes his son or his daughter pass through the fire, one who uses divination, one who practices witchcraft, or one who interprets omens, or a sorcerer, or one who casts a spell, or a medium, or a spiritist, or one who calls up the dead. For whoever does these things is detestable to the Lord; and because of these detestable things the Lord your God will drive them out before you. You shall be blameless before the Lord your God. For those nations, which you shall dispossess, listen to those who practice witchcraft and to diviners, but as for you, the Lord your God has not allowed you to do so."
"When I realized how this applied to my experience of the practice of witchcraft in the Garinagu culture, I knew I had to take a stand based on my convictions, especially about the spiritual part. Though some priests think there is nothing wrong with that practice, I have to fall back on the word of God. I am sure that I am not anti-Garinagu culture. I am just passionate about my relationship with the Lord. There are Christians who assume that just because I am of the Garinagu culure that my practice of the gifts of the Holy Spirit is witchcraft. But I use the Bible as my guide, and I share biblical truths to win souls for the Kingdom of God. I know the devil hates that, and the feeling is mutual. I love Jesus, and He knows I truly belong to Him. So do Christians of all cultures, as we saw when the church began at Pentecost, where there were gathered people from many nations and many cultures."
DailyInsight. Evil spirits take full advantage of attention from the naive & would do much worse if not for God's mercy (see Num. 25).
BPN articles related to Garinagu culture.
Related sources for Garinagu culture.
4/1/16 NEAB press conference responding to National Garifuna Council.
Tags: Belize, Honduras, Roatan, Garifuna, Garinagu, Garinague culture, spiritism, witchraft, Bible, Jesus
Garinagu culture includes spiritist practices.