PRAYER ALERT for Panama Papers leak. Multi-billionaire Lord Michael Ashcroft is among the high-profile world figures named in the Panama Papers leak made public on April 3. The Panama Papers leak includes 40 year's worth of 11.5 million confidential documents about more that 214,000 companies listed by Panama's law firm Mossack Fonseca. The documents reveal how businessmen and public officials hid their assets from taxation and public scrutiny. They involve close associates of Iceland's Prime Minister Sigmund Gunnlaugson—who immediately stepped down—of UK Prime Minister David Cameron and of Russian President Vladimir Putin. They include the former leaders of Georgia, Ukraine, Iraq, Qatar, Jordan and Sudan, and possibly many others.
Ashcroft is the former Deputy Chairman of the UK's Conservative Party. He was ennobled as a Life Peer in 2000. That status required that he live in the UK. But he continued to live as a "tax exile" in Belize for ten more years. He admitted in his 2005 biography that in Belize his interests have been "exempt from certain taxes for 30 years." In 1984 Ashcroft formed Belize Holdings (BHI) in an effort to control this newly independent nation's financial service. Since then, BHI and its offshoots gained control of Belize Bank, and virtually monopolized Belize's telecommunications until they were nationalized in 2010.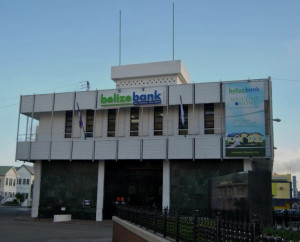 Now the Panama Papers leak reveals that, beginning in 2006, Ashcroft used Panama's law firm Mossack Fonseca to set up shell corporations in Belize. In 2013 Ashcroft established a new company owned by Mossack and Fonseca called M.F. & Co. (Belize) Limited. The implication is that Ashcroft and Belize Bank used the shell companies as walls of secrecy around transactions and for tax evasion. An Ashcroft spokesman has called these documents "entirely false." We await the release of further documents from the Panama Papers leak.
One year ago Ashcroft's Belize Bank was the first bank in Belize to lose its correspondent banking service providers in the US. It was the beginning of a de-risking strategy by US banks that is cutting Belize and other Caribbean nations off from the flow of international financing. On September 16, 2015 the US Internal Revenue Service (IRS) was granted the right to serve a summons on Belize Bank. The IRS wants to investigate the shell companies that the bank uses. More revelations from the IRS and the Panama Papers leak could further isolate Belize, as well as the Caribbean, from the world's financial systems. The Caribbean Community (CARICOM) cautioned that the label of "tax haven" not be applied loosely to Caribbean banks which are complying fully with international standards. Caribbean countries are still developing, and suffer when foreign businesses evade taxes from the profits they make there. The International Monetary fund estimates that developing countries lose about $213 billion a year, or 2% of their national income, through profit-shifting by multinational corporations. We must pray that the truth continue to come out about these practices, and that justice be done to the wrongdoers. But we must also pray that faithful stewards arise in their place.
PRAY WITH US. Father God, nothing is hidden from Your sight. We thank You for Your Spirit, who searches all things. We thank You that He leads us into all truth. Lead us to use these Panama Papers revelations wisely. Not to be overcome by evil, but to bring evil to justice. Not to despair over corruption, but to seek course correction. Not only to prosecute the wrongdoers, but to promote good and faithful stewards.
You are humbling the strong and the proud. Now exalt the weak and the humble. Belize and other Caribbean nations are weak and humble nations in the kingdom of the world. Make them strong and righteous nations in the Kingdom of the Lord. Disciple us in paths of righteousness regarding finances. Prosper the faithful and lead them to make more disciples. Help them to resist any anti-Christ system, and to thrive as they live in faith. Show them Your plans to prosper us, and not to harm us, plans to give us a hope and a future in You. In Jesus' name, amen.
DailyInsight. Hunger for righteousness shall be filled. But greed can never be satisfied and eventually devours itself (see Mt. 6:31-33).
BPN related articles on Panama Papers leak.
Related sources for Panama Papers leak.
World leaders included in Panama Papers leak.