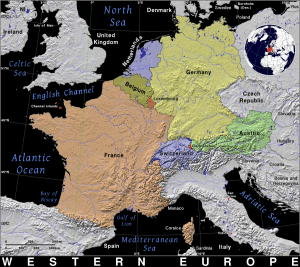 PRAYER ALERT on Brexit contest. On June 23 Britain will vote on "Brexit"—whether or not Britain will exit from the European Union. In this Brexit contest, voters face a stark choice about their borders. Does Britain continue to benefit economically from trading over open borders with the 27 other EU countries? Or does it close its borders to control waves of immigrants that include jihadists and shariah advocates?
In 1975 UK voters chose by a 2 to 1 margin to stay what was then the European Community, or Common Market. Since then the UK Muslim population has grown seven times as large, to 3,000,000. Since 1996, when shariah became a legal alternative, 85 shariah courts have arisen. The number of mosques has grown to about 2,000. Mosques are often the breeding ground for terrorists. Hundreds of Briton jihadists have joined ISIS and the Nusra Front in Syria. No one knows how many are planning jihad in Britain. With its borders open, Britain is vulnerable to more radical Muslims entering and joining the jihadist ranks.
On the other side of the Brexit contest, many economists fear the cutoff of trade will provoke another financial crisis. Many business owners want to keep importing and exporting goods to EU countries with minimum obstacles. Many workers benefit from the EU's extra rules and regulations. Many statesmen argue that the EU restrains politicians' authoritarian and nationalist impulses, that can otherwise lead to armed conflict. In fact, the European Economic Community began in 1957 with the intent of avoiding another world war. And partly due to the EEC and the EU, Europe has enjoyed decades of relative peace since WW2. Recently British PM David Cameron warned that breaking away from the EU would lead to WW3.
But hasn't a world war already begun?
DailyInsight. Since God created everything, there is nothing beyond His power to fix or mend or restore. Anne Graham Lotz (See Col. 1:15-20).
BPN articles related to Brexit contest.
Syrian elections to be held amid worsening war.
Related sources for Brexit contest.
Rise of patriotic populists challenges Muslim invasion.
Tracing the global market thread that could be unraveled by Brexit.
.
Keyword: Brexit contest.
On June 23 Brexit contest will be decided.