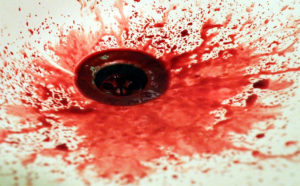 PRAYER ALERT on partial birth abortion. Hillary Clinton's appointees as Supreme Court judges would overturn the 2003 law against partial birth abortion. The Supreme Court upheld that law in 2007 by only a vote of 5-4. Partial birth abortion kills babies even while they are being born. Clinton also plans to keep forcing taxpayers to pay for Planned Parenthood. PP not only performs abortions but actually sells baby body parts.
PP has associations working in 189 countries. PP member Belize Family Life Association illegally performs abortions in Belize. The more the US empowers PP, the more it can kill and dismember and profit on baby body parts worldwide.
The shedding of innocent blood brings a curse on a nation (Dt. 19:10; 21:8-9). This means that the US-supported PP is bringing curses on 189 nations. We must pray not only that God will turn the election His way. We must pray that the hearts of the fathers and mothers will turn to the children. Or else He will strike these nations with worse curses. We must plead for His mercy instead.
PRAY WITH US. Father God, we exalt You as the Author of all life. We thank You for making us Your children. You made us in Your image that we might become fathers and mothers of more of Your children. We grieve with You that in the US alone abortion has taken 58 million lives that You have lovingly made. You have heard their silent screams in the womb. You have seen the bloodguilt upon this nation. Now a presidential candidate is planning to increase that bloodguilt and to bring more of it to other nations. She knows not what she does. In the US elections, lift up candidates who do understand. Who value human life and the kind of families who nurture it. Who stand against propagandists who redefine sex and family. And who are not afraid to call good what is good and evil what is evil.
Make such candidates fruitful in this election. Multiply those who plan to vote for them in races where they are behind. Forgive the millions of Your people who have failed to vote and make a difference in the past. Stir up the 94 million US evangelicals to vote Your way on November 8. Afterwards, move us to pray and open the way for Your good plans to unfold. For You alone have the answers. Do this not only for the sake of the USA, but for all the nations she influences. Let Your kingdom come and Your will be done in all the earth, as it is in heaven. For Yours is the kingdom and the power and the glory forever. In Jesus' name, amen.
Read more…
DailyInsight. The church brings the evildoer to the Lord; the state brings the evildoer to the law (See Rom. 12-13).
BPN articles related to partial birth abortion.
Related sources for partial birth abortion.
Keyword: partial birth abortion
Partial birth abortion would increase under Clinton.