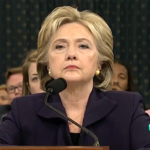 PRAYER ALERT on Rudy Giuliani cites. Rudy Giuliani is a former New York City Mayor and US attorney for the Southern District of New York. Giuliani prosecuted high-profile cases against the Mafia and against corrupt corporate bankrollers. One year ago he identified 15 crimes that Hillary Clinton may have committed in her private email server scandal. Now that the FBI has renewed its probe into Clinton's email server, Rudy Giuliani cites again these 15 crimes, with much more proof that Clinton did commit them.
In fact FBI Director James Comey himself said that Clinton was "extremely careless" in handling classified information while she was Secretary of State. "Extremely careless" is the definition of "gross negligence" which itself is a criminal violation. Comey inexplicably—against strenuous objections of many FBI agents—scaled back his probe of her on July 5. This means voters knew that Clinton was under criminal investigation during all of the primaries. Will voters elect her as President knowing that further criminal investigation will take weeks, if not months or years? Can the US endure another Watergate-style paralysis, this time with far more serious charges and consequences?
Rudy Giuliani cites Clinton for the following criminal offenses.
18USCA#201 Bribery.
18USCA#208 Acts affecting a personal financial interest (includes recommendations).
18USCA#371 Conspiracy.
18USCA#1001 False statements.
18USCA#1341 Frauds and swindles (mail fraud).
18USCA#1343 Fraud by wire.
18USCA#1349 Attempt and conspiracy (to commit fraud).
18USCA#1505 Obstruction of justice.
18USCA#1519 Destruction, alteration or falsification of records in federal investigations or/and bankruptcy.
18USCA#1621 Perjury (including documents signed under penalties of perjury).
18USCA#1905 Disclosure of confidential information.
18USCA#1924 Unauthorized removal and retention of classified documents or material.
18USCA#2071 Concealment (removal or mutilation) of government records.
18USCA#7201 Attempt to evade or defeat a tax (use of Clinton Foundation funds for personal or political purposes).
18USCA# Attempt to interfere with administration of internal revenue laws (call to IRS on behalf of UBS not turning over accounts to IRS).
The FBI now has much more potential evidence to examine. It reopened its probe because it found another 650,000 possibly relevant emails. They are stored on the laptop that Clinton's top aide, Huma Abedin, shared with her husband, Anthony Weiner. The FBI discovered them while probing Weiner himself on charges of sending sexually explicit messages to a 15-year-old minor.
And now Wikileaks is providing even more massive evidence of criminal and unethical activity in the Clinton camp…
DailyInsight. If a ruler pays attention to falsehood, all his ministers become wicked (Prov. 29:12).
BPN articles related to Rudy Giuliani cites.
Related sources for Rudy Giuliani cites.
Keyword: Rudy Giuliani cites.
More proof now for the crimes that Rudy Giuliani cites.