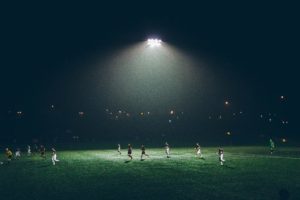 PRAYER ALERT on sports outreach plan. The government's gender policy presently focuses on reducing the harm done by domestic violence, child abuse, and kids' involvement in sex, drugs and crime. Last week at the Church-State Commission meeting, church leaders proposed that we should also focus on preventing the harm. The government asked us for a proposal. What follows is a sports outreach plan. It would steer kids out of harm's way and into God's way of developing their potential.
It starts with the local church. Churches usually try to lure kids into our meetings. Our sports outreach plan meets kids where they are, on the basketball courts and the soccer fields. Belizean schools don't offer kids enough sports. Many kids crave opportunities for more. The churches can help to fill that gap. We can start small and arrange games every few weeks, with a boys' division and a girls' division. That reduces unsupervised boy-girl interaction which can lead quickly to sexual experimentation. For girls or boys who don't much like sports teams, we can offer drama or performing arts teams.
Teamwork can provide a form of discipleship. Especially with Christian coaches acting as parent figures and/or role models. Good teamwork promotes right relationships, mutual respect, fairness, discipline, work ethics, and measurable achievements. When teamwork doesn't work, the coach can bring in the spiritual gifts of prayer and exhortation. And cultivate the spiritual fruit of perseverance. Our sports outreach plan should include frequent practices. They keep kids occupied with healthy and constructive activity and too busy to entertain multiple temptations.
We can encourage parents to bring the whole family to games that are overseen by church leaders. They can begin with prayer and brief motivational speaking. A friendly policeman can come to promote a neighborhood watch. The audience can see the pastor as one they can go to for counsel, and the policeman as one to whom they can report suspicious activity and crimes.
The more that neighbors gather and communicate, the harder it is to hide domestic violence and child abuse. The more neighbors use the parks and the streets, the harder it is for criminals to use them. There is safety in numbers. The more safe and busy the streets, the more local businesses flourish. The more they flourish, the more local youth they can employ. We can encourage businesses to sponsor the sports events, bring vendor tables and food to sell, expand their customer base and look out for employee prospects.
Local churches too can bring literature tables and invite attendees to church events. A Sunday afternoon game can lead into a Sunday evening church service. We are the light of the world. But we must bring our light out to the world before we can lead people to the Lord. Domestic violence, child abuse, sexual promiscuity, drugs and crime thrive in darkness. It's time to let God's light shine and take back our neighborhoods!
PRAY WITH US. Father God, let there be a greater light in Your churches. For people living in darkness, let Your great light shine. Lead us to bring that light where those people are. Raise up Christian coaches for local kids who need Your training. Raise up Christian mother and father figures to show Your Fatherhood. Show kids how to become Your children and grow in Your light. Bring whole families out of darkness into Your Kingdom of light.
Give local churches favor for a sports outreach plan and other divine strategies. Help us to occupy local streets and fields with Kingdom activities. Let God arise. Let Your enemies be scattered. Let testimonies go forth of deliverance from domestic violence, child abuse, addictions and crime, and from all kinds of temptations. For Yours is the kingdom and the power and the glory forever. In Jesus' name, amen.
DailyInsight. Jesus joined our human family so that we may join His divine family (See Heb. 2:10-15).
BPN articles related to sports outreach plan.
Unjust judgment for sodomy—appeal pondered.
Sodomy ruling delayed, church prays for judge.
Sodomy verdict to be prayed for in all Belize.
LGBT claims that publicity is victory.
Keyword: sports outreach plan.
For harm avoidance, try this sports outreach plan.