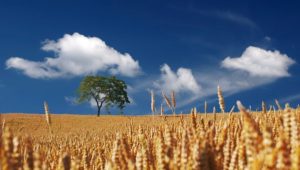 Donald Trump's rise to the US presidency surprised most, but not those who track current prophetic words. Against all conventional wisdom and nearly all polls, prophetic people agreed by consensus that Trump would win the election. This "yuge" shift in the natural signals a major shift in the spiritual. Where is this shift going? God is using Trump, with all his obvious faults, as a wrecking ball to clear the way for new and more productive works. God is also using Trump's obvious business savvy to release great potentials long held back by dysfunctional bureaucracy and political correctness. We must stay in prayer for God to direct Trump's choices and their consequences for the US and the world.
What will this major shift mean for God's people in 2017 and beyond? Here's a condensed version of prophetic words that the Spirit is saying to the churches.
God will revisit old wells. He will remove the spirit of heaviness has long rested upon the fountains of the deep. Blocked up living waters will break forth. They will cause rapid growth. We will quickly reap what we have sown in past seasons. Seeds that we sowed from God will flourish. What we have sowed apart from God will bear bad fruit.
It is time to admit when the fruit is bad, and to uproot the bitter roots so that they do not grow up to defile many. We do that through forgiveness and loving our enemies. We must extend mercy to those who do not forgive or receive forgiveness, or who doubt God's goodness. Such mercy will be seed for future harvests. But we must align and persevere with people who are "like-minded, having the same love, being one in spirit and purpose" (Php. 2:2).
Such agreement will be fruitful and multiply. Expect harvests of righteousness from these relationships to grow and ripen quickly. Prepare for an acceleration from glory to glory. "Arise and shine, for your light has come, and the glory of the Lord rises upon you. See, darkness covers the earth and thick darkness is over the peoples. But the Lord rises upon you, and His glory appears over you. Nations will come to your light, and kings to the brightness of your dawn" (Isa. 60:1-3).
This is only a dawn that will grow much brighter. A people living in darkness will see a great light. This greater light will bring forth greater works. It will cause God's planting to grow more rapidly, along with the release of living waters from fountains old and new. So make room for new relationships, new works and new growth in your life. Get ready for upgrades that will take you to new levels. Do not conform any longer to the pattern of the world, but be transformed by the renewing of your mind. Then you will be able to test and approve what God's will is—His good, pleasing and perfect will" (Rom. 12:1-2).
PRAY WITH US. Father God, You are Lord of the now and of the eternal. The years, the seasons and the days are in Your hands. Thank You for prophetic words to guide us. Thank You for all You did in 2016. We look forward to greater manifestations of Your grace in 2017. Free us from the old patterns of the world. Expose and extinguish bitter roots. Show us how to forgive and be forgiven so that we may move on to greater works with You.
Lead us into higher thoughts and and higher paths of righteousness for Your name's sake. Form new alliances so that our agreement will magnify Your great power in the earth. Make us Your witnesses to the new branches of government that You are bringing forth. Guide their growth that they may overcome evil with good. Grant favor to the new and greater works that You are establishing in the earth. Let it all flourish and glory You. For thine is the kingdom and the power and the glory forever. In Jesus' name, amen.
DailyInsight. When things suddenly get worse, God may be hastening their demise so He can do new and better things (see Ex. 5).
BPN articles related to prophetic words.
Related sources for prophetic words.
"The Year of the Made-Up Mind" and "A Year of EXTREME FAVOR!" by Joe Joe Dawson
Dutch Sheets: "Mercy Is Our New Currency"
"Everything Green for 2017" by Dr. Theresa Phillips
2017 Time for a Divine Do-Over by Daryl Crawford-Marshall
Keyword: prophetic words.
Prophetic words agree on Trump shift applying to a global shift.