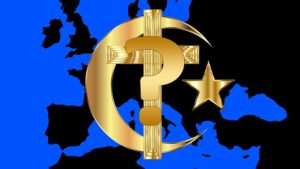 PRAYER ALERT on Christian decline. A Roman Catholic archbishop warned that the Christian decline in Europe is making way for Islam to become the dominant religion. Monsignor Carlo Liberati, bishop emeritus of Pompeii, Italy, said: "In 10 years we will all be Muslims because of our stupidity. Italy and Europe live in a pagan and atheist way. They they make laws that go against God and they have traditions that are proper to paganism."
In the past 45 years the number of Muslims in Italy alone has grown from about 2,000 to two million. At the same time the Christian decline in Italy has been staggering. Occult diviners outnumber Catholic priests three to one. In France, anti-Christian attacks rose 38 percent in 2016. They included the murder by two ISIS fanatics of a priest while he was celebrating Mass. In Denmark last year a nationwide atheist campaign urged people to reject the divinity of Jesus. In April to June about 10,000 left the Church of Denmark.
In the UK the majority of millenials don't believe their country is Christian any more. And police are arresting people just for preaching the gospel. If a Muslim takes offense at the proclamation of the divinity of Christ, he can call it a "racially or religiously aggravated" crime. The offender can face a prison sentence of seven years. For the past week, the British House of Lords has been considering raising the sentence to 14 years.
At the same time, most European nations allow Muslims to practice their faith with little hindrance. In hundreds of enclaves they live by shariah law. Muslim numbers are swelling by the millions due to lax immigration policies and high birthrates. Instead of assimilating into Europe, more and more young Muslims are becoming radicalized. Thousand leave to fight with terrorist groups in the Middle East and elsewhere. Many return to plot with jihadists to destabilize and ultimately overthrow their host nations in Europe. We must pray for God to deliver Europeans from such evil and to draw them back to Him.
PRAY WITH US. Father God, we know that You are the only true God. You sent Your Son Jesus to make Yourself known to us. But Europe is perishing for lack of that knowledge. And the Christian decline is leaving a great void for the enemy to fill. Islam is thriving there and spreading its demonic doctrine of condemnation and terror. But Your mercy triumphs over judgment. Let mercy fall upon the European nations. Convict them of the humanistic pride, decadence and atheism that has weakened them. As they confess, revive them with great power.
On the 500th anniversary of the Reformation, give grace for a new Reformation in Europe. Break long-standing secular strongholds that have entombed the European nations. Bring the dry bones together and give them hearts of flesh. Breathe life into them and raise them up as an exceedingly great army. Release power for unapologetic preachers of Jesus Christ. Let signs and wonders follow them that shake every arena of influence. Lead them into confrontations with the false Allah and the false prophet of Islam. Let the light of the gospel so shine that Muslims confess Jesus as Lord. Remove the veils of deception and turn mosques into churches. Let Europe be discipled and make it a discipler of nations again. In Jesus' name, amen.
DailyInsight. Revival is when God gets so sick and tired of being misrepresented that He shows Himself. Leonard Ravenhill (See 2 Chron. 34:14-35).
BPN articles related to Christian decline.
Related sources for Christian decline.
Catholic Bishop: Atheism, Stupidity, Weak Church Leading to Rise of Islam in Europe
Christians at risk of years in prison for preaching Christ
Keyword: Christian decline.
Increasing secularization has led to Christian decline.