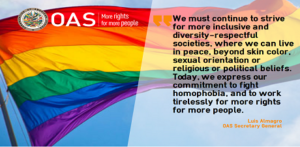 PRAYER ALERT on CitizenGO petition. Join the 67,231 people who have signed this CitizenGO petition against the OAS pro-LGBTI resolution. The resolution gives special rights to LGBTI persons that the rest of of don't have. The OAS will consider this resolution at their General Assembly in Cancun June 19-21. US Director of CitizenGO Campaigns Gregory Mertz will participate on the OAS working group for Human Rights & Democracy. He will present this petition and work to defeat the resolution.
Sign the CitizenGO OAS petition and forward it to your friends to sign! The text of the petition follows:
Dear OAS Delegate of the 47th General Assembly:
I ask that you reject the resolution proposed by the United States, Canada, Mexico, Brazil, Argentina, Colombia, Chile and Uruguay, "Human Rights, Sexual Orientation, Gender Identity and Expression and Intersex Traits (CP/CAJP/INF.376/17)."
This resolution is currently found within the report "The Promotion and Protection of Human Rights." It routinely uses the undefined terms "sexual orientations and gender identity," "gender expression," "intersex traits," "homophobia," and "transphobia." These terms have no universally agreed upon legal or scientific definition. The United Nations does not recognize these terms. In addition, these terms are not recognized in any ratified international treaty.
Discrimination and violence is wrong and should always be condemned and those responsible should be prosecuted. However, member states currently have the obligation to do so for LGBTI persons because they are human beings. This resolution recommends that LGBTI are separated as a special class of people. All human beings should be afforded the same equal human rights.
My recommendation is that you request this resolution be removed from the report "The Promotion and Protection of Human Rights" and then vote against it as a standalone resolution.
Sign the CitizenGO OAS petition.
DailyInsight. The more rights we give to LGBT activists, the more rights they want to take away from the rest of us (See Gen. 19:4-9).
BPN articles related to CitizenGo petition.
Unjust judgment for sodomy—appeal pondered.
Keyword: CitizenGO petition.
Already 67,231 signatures for the CitizenGO petition.