NEWS UPDATE for GDOP draws. The multidenomi-national Global Day of Prayer (GDOP) took place on June 4th in six locations in our nation: Belize City, Belmopan, Orange Walk, Corozal, Dangriga and San Ignacio. Since 2000 in South Africa, GDOP draws more and more Christians every Pentecost Sunday to lift their hands in prayer for God to move worldwide. GDOP now has spread to venues in 220 nations. In Belize City at 6 pm, Christians of different denominations met at Central Assembly of God to worship and pray for God to pour out grace on the nations.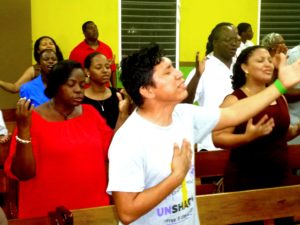 Even more of our intercession targeted Belize. We prayed for unity of the churches, for good governance, and for traditional marriage and family values. We prayed for ministries to people of all ages—particularly youth to find freedom from gang life. Also, we prayed for our nationwide multidenominational evangelism campaign, the Festival of Hope. It will reach Belizeans in all six districts and culminate with a week of gospel-intensive activities in Belize City, July 16-22.
Finally, we prayed for God to release a much-prophesied and much-anticipated revival in Belize to begin as the Festival of Hope approaches. We called on God to keep moving and change thousands of lives. This must happen as He roots out corruption and establishes righteousness in the nation. Young people will arise with a new vision for Belize which their elders will support with their wisdom and new God-given resources. We have a long way to go for that to happen. But God can take us there quickly!
A Halal ("praise") Dance illustrated the condition of the body of Christ. It started with prone bodies in black, like the "dry bones" in Ezekiel 37. Angelic figures came to stir these dead ones to arise. They took off their black cloaks. Angels kept swirling around them. We could imagine tendons and flesh forming on them, and breath entering their lungs. One arisen figure then showed a full spectrum of colors, and moved in a full range of motions. She was named "You". That's how you can move when God moves!
After the service dozens of people came forward for prayer for physical and emotional healing. Many lives were deeply touched. We believe this is just the beginning of many powerful multi-church gatherings to come!
DailyInsight. Those who make the most noise get the world's attention. Those who make the most prayers get God's attention (see Esther 3-4).
BPN articles related to GDOP draws.
Related sources for GDOP draws.
Keyword: GDOP draws.
Faith for revival builds as GDOP draws intercessors nationwide.