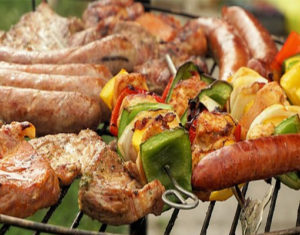 MONDAY Facebook post for loving sinners and hating sin. Remember when the prodigal son came home, and his father held a party for him? "The older brother became angry and refused to go in. So his father went out and pleaded with him. But he answered his father, 'Look! All these years I've been slaving for you and never disobeyed your orders. Yet you never even gave me even a young goat so I could celebrate with my friends. But when this son of yours who has squandered your property with prostitutes comes home, you kill the fatted calf for him!" (Luke 15:28-30)
The reverse of this post's title is to love sin and hate the sinner. The prodigal son loved sin. He loved to spend his time and money on prostitutes. That is, until he ran out of money and became destitute. Then he hated sin. You will hate sin too when you see its consequences.
The older brother hated the sinner. He railed at his brother and wanted him to suffer the consequences of his sin. The thing is, the younger brother was willing to suffer the consequences. He was willing to be a slave instead of a son to his father. He went home because his father was the best master that he could find.
In fact, both brothers saw their father as master. The older brother slaved for him. The younger brother rebelled, then went home to slave for him again. Neither of them knew the love that had been waiting for them all that time. Both were sinning by thinking that love had to be earned.
To the older brother's angry outburst, the father said, "My son, you are always with me, and everything I have is yours. But we had to celebrate and be glad, because this brother of yours was dead and is alive again; he was lost and is found" (verses 31-32).
The father loved both sinners the entire time, but hated the sin that hardened their hearts toward him. His extravagant display of forgiveness melted the heart of one son. We can hope his extravagant generosity—saying "everything I have is yours"—melted the heart of the other.
We must hate sin. But when we hate the sinner and rail against him, we too are sinning. We are grieving the heart of the Father. If we want forgiveness, we must be willing to forgive others first (Matt. 6:14-15), and love them as the Father loves them.
PRAYER. Father God, we thank You for so loving the world that You gave Your only Son. He showed how much You hated sin by suffering the consequences on the cross. But He showed how much You love sinners by giving His life for us. Help us to hate the sin that turns us away from You, and to love the sinner so he will turn back to You.
Read more posts from 50-day fast from destructive criticism…
DailyInsight. Hurt people hurt people. Healed people heal people (see 2 Cor. 1:3-5).
BPN articles related to loving sinners.
Related sources for loving sinners.
Facebook Group: 50-day fast from destructive criticism.
Keyword: loving sinners.
What sin keeps us from loving sinners?