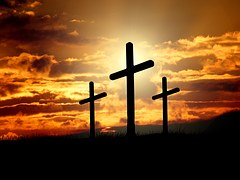 50-DAY FAST from destructive criticism: Loving yourself. "And the second is like it: 'Love your neighbor as yourself'" (Matt. 12:39).
How can the second commandment be like the first and greatest commandment? How can we love our neighbor like we love God? We must take the intermediate step. Loving ourselves.
But doesn't Paul exhort us to die to self daily (1 Cor. 15:31)? Yes, we must die to the old self, but not to the new self. We must love the new self the way God loves us.
"You were taught, with regard to your former way of life, to put off the old self, which is being corrupted by its deceitful desires… and to put on the new self, created to be like God in true righteousness and holiness" (Eph. 4:22,24). God is loving toward all He has made. He did not make your old self. You did, by sinning. God tells us to put off our old self because it is being corrupted, and to put on the new self which He created. "For we are God's workmanship, created in Christ Jesus…" (Eph. 2:10).
God created our new self in Jesus. God loves us the same way that He loves Jesus. It's hard to believe. But Jesus prayed to the Father that the whole "world know that You…have loved them even as You have loved Me" (John 17:23). God gave His only Son to suffer the most excruciating death for us—while we were still sinners!
"Greater love has no man than this, that he lay down his life for his friends" (John 15:13). That means Jesus' love for His Father is no greater than His love for us. He loves us the same way He loves His Father. Jesus wants us to love ourselves the same way that He and the Father love us.
PRAYER. Father God, we are constantly amazed at the way You love us. You so love us that You gave Your only Son to die for us while we were still sinners. Thank You for freeing us from the old self which separated us from You. Help us to love ourselves and our new lives as Your dearly beloved children.
Read more about loving God…
DailyInsight. The more you love God, the more you will love your new self which He created and hate your old self (see Eph. 4:22-24).
BPN articles related to loving yourself.
Related sources for loving yourself.
Facebook Group: 50-day fast from destructive criticism.
Keyword: loving yourself.
God's love for you helps you in loving yourself.