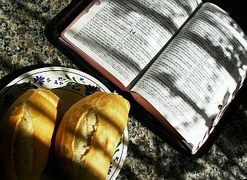 PRAYER ALERT on Bible supports Jerusalem. French Prime Minister Emmanual Macron followed many other world leaders in opposing US President Trump's decision to recognize Jerusalem as Israel's capital. But in Paris, Israeli Prime Minister Benjamin Netanyahu affirmed that the Bible and history support Jerusalem as capital. Israel National News quoted his words to Macron.
"You can read it in a very fine book – it's called the Bible," Netanyahu said. "You can read it after the Bible. And you can hear it in the history of Jewish communities throughout our diaspora – 'Next year in Jerusalem'," continued Netanyahu. He was referencing a phrase from the Passover Seder.
"Where else is the capital of Israel, but in Jerusalem? Where is our Knesset – our parliament? And where is our supreme court? The seat of our government? The Prime Minister's Office? The President's Office? It's not in Beer Sheva, it's not in Ashdod – these are wonderful cities, but it's in Jerusalem."
In the past Netanyahu has pointed out that "Jerusalem" and its alternate name "Zion" appear 992 times in the Bible. It does not appear in the Koran at all.
King David made Jerusalem the capital of Israel in about 1011 BC. After the northern tribes seceded, Jerusalem continued as capital of the southern kingdom called Judah from 831 to 586 BC.
When a remnant of Jews returned from exile in 536 BC, Jerusalem again became their capital until the Roman defeat of the Bar-Kochba rebellion in 136 AD. Jews were prohibited from entering Jerusalem for about 400 years. But Jews continually occupied small settlements in Israel during that time. After the Ottoman Turks conquered Jerusalem, they allowed Jews to return to live there as they rebuilt the city walls in 1537-1541.
The Jewish population kept growing. In 1917 Ottoman rule ended and the British mandate began. The famous 1917 British Balfour Declaration stated, "His Majesty's government view with favour the establishment in Palestine of a national home for the Jewish people, and will use their best endeavours to facilitate the achievement of this object…"
In 1948 Israel won independence and reestablished its capital in West Jerusalem. It won East Jerusalem in the Six-Day War of 1967. In the next five years, 16 nations from four continents set up embassies in Jerusalem. But Israel's three Muslim-majority neighbors—Syria, Jordan and Egypt, each of whom lost territory in the Six-Day War—pressured most of the nations to abandon their embassies in 1972-1973. Then Syria, Jordan and Egypt attacked Israel on the Jewish holy day, Yom Kippur. But in three weeks Israel won the 1973 Yom Kippur War.
Eventually dozens of nations reestablished their diplomatic seats in Tel-Aviv. But in 1995 the US Congress affirmed that Jerusalem should be recognized as the capital of Israel. In 1995 Congress also declared that the US Embassy should be moved to Jerusalem. Presidents Clinton, Bush and Obama agreed, but failed to act. Finally, President Trump has decided to fulfill that 22-year-old promise.
Dozens of world leaders have condemned the US for that decision. But we can expect that God will abundantly bless the US as a result. Remember what He told Abraham, Israel's ancestor.
I will make you a great nation, and I will bless you.
I will make your name great, and you will be a blessing.
And I will bless those who bless you,
and whoever curses you I will curse;
all peoples on earth will be blessed through you" (Gen. 12:2-3).
Read more…on how the nations rage in vain against Israel's calling. 
DailyInsight. From God comes justice, from justice law, from law security. And from security comes freedom within God's law (see James 1:25).
BPN articles on Bible supports Jerusalem.
Related sources for Bible supports Jerusalem.
Trump's Jerusalem declaration sparks talk of 3rd Temple.
Palestinians pushing for a UN Security Council resolution.
Keyword: Bible supports Jerusalem.
Netanyahu proves Bible supports Jerusalem as capital.