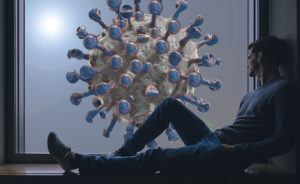 PRAY WITH US for Unbelievers Face Increasing Snares. Father God, we declare You King of kings and Lord of lords during this crisis. The world is turning to other kings and other lords during this crisis. But their answers keep changing. And their worlds keep shaking. But You have a kingdom that nothing can shake. We thank You that we have entered Your kingdom by a new birth. We ask You to lead us to unbelievers whom we can invite into Your unshakable kingdom.
Through us, show them the vanity of their escapes into drugs, porn, media or any other addiction. And show them that they can depend on no one or nothing but You. Knock on their doors. Let them hear Your voice. To those who open, show them You are the rightful Lord of their lives. Also, free them from deceitful desires. And provide for all their needs according to Your riches in glory.
PRAYER ALERT:

Unbelievers Face Increasing Snares & Woes during Plagues
Anti-anxiety prescriptions have spiked 34% in the US during the Covid-19 crisis. In Belize, psychiatric nurse practitioner Ines Cano warns of anxiety, stress and anger due to social distancing. In such times, believers can always turn to God, who never keeps a social distance from us (Mt. 28:20). But unbelievers don't know how to turn to God.
Moreover, they can't turn to friends or lovers or outside diversions like they used to. Instead, they tend to seek escape in internet and TV. There, they can fall into deep bondage to vulgar social media, porn, and TV addictions.
Or drug addictions if they can manage to store up anti-anxiety and other drugs. Or cold turkey shakes if they can't.
Ultimately, unbelievers will turn to the government for help. That can become as bad a habit as any of the others. Because the more dependent people grow on the state, the more control the state will exercise over them.
When more disasters come…
But as the end times draw nearer, plagues and disasters will increase and shake governments severely. Eventually most nations will turn to the Antichrist for stability, and fall into deep bondage to his control.
Until then, because of the increase of wickedness, the love of most will grow cold (Mt. 24:12). God will still love them. We must love them too.
When more disasters come, we must be there to show them the difference between God's love and the world's cold love. And between the truth that sets them free, and the world's deceptive snares. So let's make the most of this time to reach them, before it's too late.
BPN articles related to Unbelievers Face Increasing Snares:
Related sources for Unbelievers Face Increasing Snares:
Anti-anxiety medication prescriptions have spiked 34% during the coronavirus pandemic
Keyword: Unbelievers Face Increasing Snares