"We will tell the next generation the praiseworthy deeds of the Lord, His power and the wonders He has done…to teach their children… and they in turn would tell their children"—Psalm 78:4-6
Prayer Campaign for EDUCATION in Belize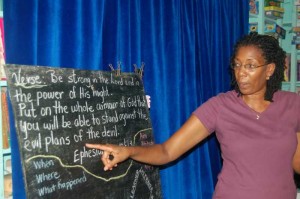 Purpose of Education—To pass on the learning of past generations and produce students who can assess their developing SHAPEs (Spiritual gifts & callings, Heart passion, Abilities, Personality & Experience), contribute to team-building, and keep learning and solving problems as they arise in the seven mountains of influence on local, national & international levels.
Current conditions: A large percentage of the national budget is allotted for education. Belize has many Christian and church-based schools. Churches have constitutional rights to manage schools and provide religious instruction whether or not they receive government aid. Yet Christian schools feel much government pressure to become more secular. Yet the national curriculum provides an outline of all subjects that does makes room for Christian content. Also, there is a prevalence throughout the education system of overcrowded, undisciplined classrooms with under-trained teachers, increasingly secular curriculum and lack of parental cooperation, resulting in low grades, high drop-out rates, and student involvement in sex, drugs and violence.
AGREE IN PRAYER WITH US FOR
Teachers, course plans & resources
Honoring God as the Originator and Guide for every school subject (Jn. 1:1-5)

Show that all truth is personal in Jesus (John 14:6), not just facts

Managements with workable goals and plans for students' academic, ethical and spiritual growth.

Conversion of non-believing and nominal teachers into passionate disciples

Policies preventing practicing homosexuals from teaching in schools

Elimination of homosexual propaganda in curriculum

Textbooks & resources with a biblical worldview on all subjects, including intelligent design

Curricula on right relationships with the opposite sex in friendship, courtship, marriage & parenting

Christian teacher review boards with higher standards than Belize's Teaching Service Commission

Raising up more male and female teachers & administrators with a love for God and students and their subjects, with biblical worldviews, and with a well-rounded life as role models

Thorough, well-paced, divinely-appointed course plans with room for Holy Spirit initiatives

Integration of course plans so teachers can know and build on teaching in other courses
Parents and conditions outside school
Partnership with parents in understanding, disciplining, and encouraging students as they develop

Raise up teachers as father and mother figures, especially to kids whose parents need help

Counseling for dysfunctional families to grow in right relationships with healthy boundaries

Counseling & good options for students caught in fornication, porn, drugs, violence & self-destruction

Agreement on times and quiet spaces at home for students' schoolwork

Safety and watchful eyes for students going to and from school

Gang influence over students to be broken, and good family influences to increase


Family finances to support ongoing education of all family members

Right relationships among stakeholders for the good of the school & community
Conditions in schools
More time in the school day for heart-to-heart worship & prayer, both planned and spontaneous

More room for God during the day in heart-to-heart communications with students. As we make room, He will address every difficulty in learning, discipline & communication

New works in believing teachers and students that draw many to Him

Agreement among teachers & students on practicing biblical values

Simple but comprehensive discipline plans which teachers & students agree on enforcing

Divine protection so that students will consider weapons unnecessary

Effective plans and resources for disaster response and recovery

Show all students they are valuable to You

A grace-filled social climate with basic cooperation and healthy, respectful competition

Effective discipline of bullying and other serious misbehavior, and counseling for victims

Respect and proper boundaries between the sexes

Good male and female role models who help students grow in their God-given identities & callings
Learning activities
Purposeful learning activities that build step-by-step into greater understandings

Growth in understanding how each learning unit contributes to the big picture

Classroom management of varied lessons that fully engage students with different aptitudes

Student growth in multiple intelligences of literacy, logical problem-solving, group interaction, spiritual perception, nature appreciation, visual arts, music, physical activity and self-developed projects

Opportunities to learn cooperative teamwork with team assignments and assessments

Students who excel in any skill to teach other students, and help them outside the classroom

Relevant resources & skilled trainers to help students through reading & other learning difficulties

Methods and content that interact proactively with a quickly changing world

Increased access to computers and other devices as students grow more responsible

Equipping students to assess and improve their spiritual, mental, emotional and physical growth
Applying learning to life
Relevance of lessons to current developments on the 7 mountains of influence

Increasing participation in the 7 mountains of influence as students approach graduation

Development of habits of lifelong learning and solving problems with God

Promotions, based on thorough ongoing assessments, only when students are ready

Jobs available upon graduation which will utilize & develop students' skills for the greater good

Preparing this generation for ongoing divine transformation at local, national & world levels
GOD ALSO SHOWED US TO

Know

He is standing at the doors of our schools and knocking. Whenever just one teacher hears His voice and opens the door, He will come in, and bring divine order as more open up to Him

Open worship times to spontaneous prayer, and prayer times to spontaneous worship

Express how valuable each student is to Him

Students who don't feel valued at school find false value in gang identity

Encourage students to enter into this season of making new music

See students as sunflowers with faces turned to God all day, growing in the light of His truth

The end of the school year is a time for appreciating how God has grown our minds & hearts together

Prepare the way for a great national awakening sustained by ongoing encounters with Him
TESTIMONIES: ANSWERS TO PRAYER
Beginning with the most recent (see more in Testimonies) 
June 13, 2014. Jamaica's Supreme Court issued an injunction reversing University of West Indies' dismissal of long-time Professor Brendan Bain 

from his position as Director of the Caribbean HIV/AIDS Training

 

Network. Bain has spent decades researching AIDS and treating patients with AIDS. 

He had testified in Belize's Supreme Court sodomy case that men who had sex with men were much more vulnerable to AIDS infection. 

For telling this proven truth UWI—under pressure from LGBT proponents—fired Bain. 

Protests in support of Bain around the Caribbean, including two in Belize on May 17 and 25, were well-covered by the media. 
October 15, 2013. In response to concerns raised by church leaders on Oct. 8, the standing committee on the Belize rape bill held a public hearing on Oct. 15. Some items in the bill targeted sex crimes against children. But other items were worded in such a way as to actually open the door for adult predators and LGBT propaganda in schools. The government promised to change the wording in order to address church concerns. Many in the audience objected that we weren't hearing the bill in its final form. Others pleaded for the inclusion of items not covered by the bill, such as measures against rampant pornography and against promotion of abortion—which is still illegal in Belize—and contraceptives to minors without parental consent. Audience opposition to anything about the new gender policy in the bill was so intense that the government has hardly promoted that policy at all since (as of June 2014).  
January 15, 2013. A 13-year-old Belize City schoolgirl who had run away from home with a 30+year-old boyfriend returned of her own accord and responded positively to counseling from her Christian principal.
Sept. 13, 2012. The Ministry of Education withdrew the "Health & Family Life Education" manual from all of Belize's 300+ primary schools. Fifty percent of the manual was geared toward normalizing homosexuality, repeatedly referring to the anus as a sexual organ and encouraging kids to consider multiple same-sex partners as well as opposite sex partners. This manual had no mention of marriage, abstinence or the nuclear family as values. The Ministry promised to review it for revision or replacement by another manual.
July 20, 2012. A government committee agreed to extend the deadline for public response to its plan for decriminalization of marijuana, beyond the original four days, so that there can be a much fuller public discussion on this complex and critical issue. That will facilitate public awareness that marijuana smoking can impair learning, memory and driving ability, and cause cancer, and harm children of users. The teacher's union later raised concerns that marijuana decriminalization would result in higher levels of drug use, disease, crime & behavioral problems.