"Of the increase of His government and peace there will be no end"—Isaiah 9:7
Prayer Campaign for the GOVERNMENT of Belize
Purpose of Government in the democratic nation of Belize:
To uphold "principles which acknowledge the supremacy of God",

and the exercise of "freedom… founded upon respect for moral and spiritual values and upon the rule of law…" (Preamble of the Constitution of Belize; see Pr. 1:7; Dt. 10:17-18; Ps. 136:1-9; Dan. 2:47; especially 1 Tim. 6:13-17; 1 Pet. 3:16-17)

To keep the peace and administer justice in punishing criminal offenses (1 Tim. 2:1-2; Rom. 13:3-4)

As representatives of the Belizean people, to carry out the mandates of majority vote within the boundaries of Constitutional protection of equal rights for minority groups and individuals (Acts 6:1-6), rights including freedom of thought, religion, conscience, expression, assembly and association. Constitutional provisions II.1.(d) and II.11.(1)

To provide incentives and regulations that promote the common good, which is "the sum total of social conditions which allow people, either as groups or as individuals, to reach their fulfillment more fully and more easily" (1994 Catechism no. 1906; see 1 Pet. 2:12-17)

To compel all to bear their fair share of personal & financial burden for the common good (Rom.13:5-8)
Current conditions: Since independence from the UK in 1981, Belize has had a parliamentary democracy with general elections hotly contended by the two major parties. The party which wins the most seats in the House of Representatives selects a prime minister and holds the balance of power until the next election. Third parties have the potential of altering that balance of power. The judicial branch consists of magistrate's courts and the Supreme Court with the final court of appeal being the Caribbean Court of Justice. Belize presently has more ties with former British Caribbean colonies than with Central American nations. The main foreign policy issue is the border with Guatemala. Guatemala still officially claims Belize's territory as its own, but is beginning to offer more cooperation in stopping the illegal border intrusions and the threat of drug cartel activity.
AGREE IN PRAYER WITH US FOR
THE STATE OF THE CHURCH & THE NATION
God to search our hearts for any tendencies of corruption. Forgive us for we have been passive too long

Forgive us for lack of response when government has asked churches for help in the past

Repentance on behalf of Belize, to be released from past ties and unholy alliances into our divine destiny

Divine appointments leading to salvation for each member of the government and their families

Clarity of mind for each of the voters in our future elections, and for them to know the value of their votes

More individual & group active advocacy of ethical practices and divine solutions for our schools, workplaces, communities and nation

Leadership development in the church to produce leaders for within & for outside the church

Divine government for lives, families & churches "devoted to the apostles' teaching" (Acts 2:42) so we can pray with more authority for the government of Belize

Christians in politics who uphold the law and right of all to freedom of religion & expression, who work with those of differing worldviews to seek common ground & the common good, who seek God's guidance but argue their positions according to reason more than faith, and who by Christian virtues and supernatural power in action attract others to Christ
THE SODOMY LAWSUIT
The body of Christ to unite as never before and be the salt of the earth as it responds
A prayer covering for church leaders, the legal team for the church, and those on the spearheading team who are fighting this issue

Recognition that unnatural sexual acts are not rights endowed by our Creator

Recognition of the distinction between sodomites' arguments for human rights, which they already have, and promotion of special rights to engage in unnatural acts that spread disease

Grace to stand firm against the gay agenda in the face of

economic and political pressures

from US President Obama, UK Prime Minister Cameron, and UN Secretary General Ban Ki-Moon

Exposing how this perversion took root in Belize and how to eradicate it & gain freedom

Confusion among the spiritual forces behind the sodomy lawsuit

Conviction on UNIBAM's legal team to abandon this ungodly & un-Belizean cause

Victory after victory over attempts to legalize sodomy, same-sex marriage & abortion

Lifting up Belize, the first of 80 nations which the gay agenda is targeting, as an example to the world of how to expose and defeat that agenda

A release of sexual purity and holiness across our nation
LAW ENFORCEMENT & JUSTICE
Growth for weekly police prayer meetings in Belize City

Protection for Belize City children, the vast majority of whom have been exposed to gun violence

Encouragement and protection for crime witnesses to testify, and for justice to prevail

Comprehensive training for police, judges and attorneys

Increase in murder conviction rate, which was only 5-7% in 2000-2010

Just punishments that truly bring correction

Exposure & eradication of all criminal gangs, and direction for gang members into productive lives
NATIONAL SECURITY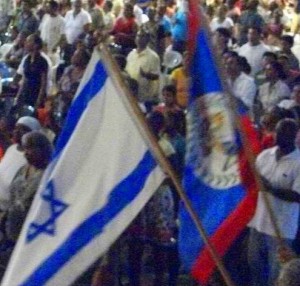 Honor of Israel's God-given eternal borders so that God will bless & keep Belize's borders

Protection of our borders against illegal intrusions by Guatemalans and others

Honor, justice & constructive attitudes toward our legal and indigenous Maya citizens

Affirmation of our border and establishment of right relationships with Guatemala

Regional cooperation against Mexican drug cartels spreading into Central America

More discoveries and protection of

oil, gold, silver & other resources in Belize
GOVERNMENT RESPONSIBILITIES
Provide Belize with His means to make each monthly payment on our $1+ billion Superbond debt

Help Belize stand against financial pressures of gay agenda and drug gangs as a testimony of how our great God can uphold a small & humble nation

Fidelity to the Constitution "founded on principles acknowledging the supremacy of God"

A government of the people, by the people and for the people, according to law

Workable checks and balances

Divine overruling of misguided decisions and policies

Disruption of plots and unholy conspiracies contrary to the common good

Healthy fear of God and understanding of accountability to Him as well as to the people

Conviction on those engaged in corruption, a grace period for course correction, and removal of those who refuse to cooperate with God's grace

Public servants of integrity who are true to their word, with a heart to serve all the people a passion for justice, and vision to develop Belize instead of self-interest

Government that punishes crime, keeps peace, protects oppressed & minorities, and praises what is good (1 Pet. 2:15, 1 Tim. 2:1-2; Isa. 10:1-2) as defined by authorities on the 7 mountains

Fair and enforced taxes

Public understanding of the benefits of submission to lawful authority

Clear, simple and necessary regulations for a fair and level playing field for businesses

Healthy finances leading to increasing independence from the world economic system

Resistance to pressures to cooperate with any world anti-Christ developments

Clear communication and honest cooperation among government agencies

Yearly audits to keep the government accountable and stable

Development of clear and simple audit trails and internal controls to prevent corruption

Ongoing appraisal & improvement making most of resources & changing conditions

Wisdom and alertness in solving problems before they grow bigger

Quick, accurate disaster warnings, with effectively networked responses & recovery plans

Up-to-date resources keeping pace with technical developments

Right relations between government & church, the nation's moral conscience

Relevant prayer and Bible study for each department of government

Overcoming the powers behind the thrones by wrestling & prevailing in prayer
GOD ALSO SHOWED US
Humility, repentance and more of Jesus in us will give us spiritual authority (Php. 2:3-11)

We need to be on His rock when tribulations come, so we can speak with His authority

Government works by law to punish evil with wrath, while the Church lives by faith to offer grace to evildoers (Rom. 12:17-13:10)
TESTIMONIES: ANSWERS TO PRAYER
Beginning with the most recent (see more in Testimonies)
May 16, 2014. Belize won a key battle to maintain its 2011 takeover of the formerly foreign-owned and lucrative Belize Telemedia Limited. In a 2 to 1 decision, the Court of Appeals ruled the government's right to acquire BTL, and also the foreign-owned Belize Electricity Limited. The ruling may leave Belize liable to pay compensation for the period between its first BTL takeover in August 2009, which the court had found unconstitutional, and its July 2011 takeover, which was affirmed by a constitutional amendment. The case now goes for final appeal to the Caribbean Court of Justice. We must pray that God will not allow impoverished Belize's finances to be bled away by rich foreigners.
March 7, 2014. Mayor Darrell Bradley, a committed Christian, reported that the Belize City Council had met its target of concretizing 100 streets in just a year and a half using a $20 million municipal bond. This unprecedented project came just in time. It seemed to prophetically anticipate the just-ended, extremely torrential rainy season. Were it not for the solid new concrete surfaces, the rains would have made major roads practically impassable. The money for the project is being well-accounted for by the new policy of public monthly financial reports on the City Council's website. Now they have another $10 million pledged by the central government to surface at least 40 more city streets, expected to be finished by September.
January 24, 2014. Belize's negotiations to restructure its US $547.5 million Super bond debt received the 2013 Sovereign Restructuring Deal of the Year. It was awarded by the publication Latin Finance, which covers both Latin America and the Caribbean. It is a deal we longed prayed for. Christine Vellos, leader of the Buttonwood Bay prayer group, participated on the 5-person Belize negotiating team. She was chosen because of her work as Deputy Governor of Belize Central Bank. More than 86% of the bondholders accepted the new terms. The deal included a 41% reduction in the current interest rate and a 20% reduction in the subsequent step-up interest rate, plus a 6-year grace period before principal repayments commence.
November 22, 2013. The Belize Police Department released new statistics showing a decrease in major crimes from January through October 2013 as compared to the same period in 2012. According to Amandala, "There were 119 murders recorded at the end of October 2012, while for that same period this year, there were 88 murders. The frequency of another major crime – robbery –has also decreased, from 413 incidences last year to 236 for the same period this year. One of the only crimes that is on the increase is theft; so far this year there have been 845 cases of theft, while there were 777 such cases up to the end of October last year."
October 15, 2013. In response to concerns raised by church leaders on Oct. 8, the standing committee on the Belize rape bill held a public hearing on Oct. 15. Some items in the bill targeted sex crimes against children. But other items were worded in such a way as to actually open the door for adult predators. The government promised to change the wording in order to address church concerns. Many in the audience objected that we weren't hearing the bill in its final form. Others pleaded for the inclusion of items not covered by the bill, such as measures against rampant pornography and against promotion of abortion—which is still illegal in Belize—and contraceptives to minors without parental consent. Audience opposition to anything about the new gender policy in the bill was so intense that the government has hardly promoted that policy at all since (as of June 2014).  
August 17, 2013. Mario Ramirez Trevino, a top leader of Mexico's Gulf Cartel, was arrested by military forces just one month after the capture of Zetas drug lord Miguel Trevino Morales. This shows that Mexico is again serious about going after drug lords one year after newly-elected President Pena Nieto moved to dissolve the AFI, Mexico's main agency for fighting drug trafficking.
August 13, 2013. Dozens of leaders from both the Evangelical Association and the Belize Council of Churches met to share their proposed changes to the government's pro-LGBT gender policy. They overcame recent differences in response and agreed on all the changes. All leaders present signed a statement in support of the one combined document articulating the church's full response to the policy.
July 15, 2013. Mexican Marines captured Zetas drug lord Miguel Trevino Morales in Anahuac, Nuevo Leon, with US $2 million, eight weapons and hundreds of rounds of ammunition in his possession. He was wanted on charges of organized crime involvement, torture, drug trafficking, the illegal use of firearms and money laundering. Under his 5-year rule, the drug cartel began expanding into Guatemala, committed atrocities there, and left Z for Zetas marks on trees in Belize's Chiquibul Forest.
July 2-20, 2013. Nearly 10,000 people participated in Constitution Marches in all the six districts of Belize. These marches highlighted the provisions in the Constitution concerning the family, the "supremacy of God," and disease prevention. Belize Action organized this nationwide response to the government's new pro-LGBT gender policy.
February 12-13, 2013. We have been praying for months for a new deal for the $1 billion Superbond debt, which is larger than Belize's entire 2012 budget of $953 million, and on which Belize is behind in payments. God gave us a Christmas present when a new deal with a representative of Belize's creditors was struck just before the New Year. It was approved by both the House and Senate on Feb. 12-13. The new deal includes a 41% reduction in the current interest rate and a 20% reduction in the subsequent step-up interest rate, plus a 6-year grace period before principal repayments commence.
December 5, 2012. Nation of Islam leader Louis Farrakhanwas scheduled on Dec. 6-9 to meet with Belizean heads of state and civil society, to conduct media interviews, and to stage youth and men's rallies in Belize. However, he is known for making many racial slurs against Jewish people and white people, and has admitted that he contributed to the hostile mood in the 1965 assassination of Malcolm X, who had just publicly renounced his prejudice against whites. Considering the strains we already experience in this multi-racial nation, we prayed that God would not allow this visit to happen. The day before his planned arrival Farrakhan was hospitalized for dehydration and had to cancel his visit.
November 25, 2012. We prayed with urgency that the Holy Spirit would come and bring to repentance the killer of three family members in their home in Ladyville in the wee hours of this Sunday morning, and not escape the law as 90% of murderers in Belize have done. And in fact he did confess to police soon afterward. We pray that God will use the many ministries at Hattieville prison to bring Jesus into his life.
Oct. 5, 2012. Restoration of yearly auditing is holding GOB officials accountable for expenditures, a very healthy development after many years of government activity off the books.
Sept. 13, 2012. The Ministry of Education withdrew the "Health & Family Life Education" manual from all of Belize's 300+ primary schools. Fifty percent of the manual was geared toward normalizing homosexuality, repeatedly referring to the anus as a sexual organ and encouraging kids to consider multiple same-sex partners as well as opposite sex partners. This manual had no mention of marriage, abstinence or the nuclear family as values. The Ministry promised to review it for revision or replacement by another manual.
Sept. 4, 2012. Gian Ghandi, legal counsel for the Ministry of Finance, reassured the churches that any financial agreement Belize signs would have "spouse" understood to mean husband or wife in a heterosexual marriage, because that's what it means according to Belize law. This issue arose when Belize Action found a clause in the Domestic Banks and Financial Institutions Bill that appeared to expand the meaning of "spouse" to include same-sex couples.
July 20, 2012. A government committee agreed to extend the deadline for public response to its plan for decriminalization of marijuana, beyond the original four days, so that there can be a much fuller public discussion on this complex and critical issue. That will facilitate public awareness that marijuana smoking can impair learning, memory and driving ability, and cause cancer, and harm children of users. The teacher's union later raised concerns that marijuana decriminalization would result in higher levels of drug use, disease, crime & behavioral problems.
April 27, 2012. After 3 months of consideration, Justice Michelle Arana made preliminary decisions in the sodomy lawsuit. She approved the churches' expert witnesses, with one exception, and denied UNIBAM's expert witnesses. She also affirmed that the Preamble to the Constitution is part of the Constitution, against the odd claim that it is not relevant. The Preamble does "affirm that the Nation of Belize shall be founded upon principles which acknowledge the supremacy of God…and the equal and inalienable rights with which all members of the human family are endowed by their Creator." This is important, because we hold that the practice of sodomy cannot be a right since it is contrary to the Creator's design.
March 7, 2012. The national elections were peaceful and free of violent incidents, as we had earnestly prayed. Also, leaders of both main political parties took stands against the lawsuit to legalize sodomy.
Sept. 4, 2011. Prime Minister Barrow negotiated a truce among Belize City gangs, followed by weeks of a significant drop in the murder rate.
Aug. 19, 2011. PM Barrow on told members of BAEC that he considers the church to be the most influential institution in Belize and wants to consult with BAEC on every major issue from now on.
April 9-12, 2011. April 9: Intercessor Dawn Bowen received a warning from the Lord that gangs would target police, BDF and other authorities. April 10: Police Inspector Diane Hall came to a Belize City church with two other officers, requested prayer for help against crime, and said they planned to start prayer meetings at the police station, and to hold a citywide prayer rally on May 8. April 12: BC-HOP met at Remar and began to pray for these police prayer initiatives and for citywide protection from crime. Just as we started, Prayer Leader Enfield Gordon received a cellphone call from the office of the national Commissioner of Police. Enfield was asked to work as a positive spiritual influence in a police program for youth in Belize City, which in fact has the world's highest crime rate. Thank God and pray for His continuing grace for our involvement with the police and these youth.