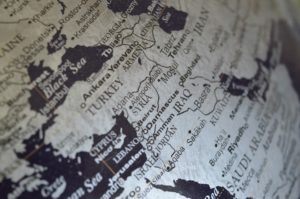 PRAY WITH US about the US troop pullback: Father God, Your Word forever stands, while the words of men fall to the ground. You say that one day all nations will stream to little Israel to decide their disputes. Yet today most of them condemn Israel. They favor strong enemies which surround Israel and vow to destroy her. But you chose the weak things of this world to shame the strong. You chose the things that are not to nullify the things that are. So that no man may boast before You.
Israel is Your chosen nation. So continue to make her a blessing to other nations. Turn the hearts of those who curse her, so they may not be cursed. Give them a revelation of Jesus, the greatest blessing that Israel has produced. Shake these nations in a way that will free their people from bondage to Islam. Let them find salvation and freedom in Christ. Cause the fullness of the Gentiles to come in, that Israel too may be saved. And send Jesus to rule the earth from Israel, that Your kingdom may come, and Your will be done, on earth as it is in heaven. In Jesus' name, amen.
PRAYER ALERT: US Troop Pullback Causes Middle East Shake-up
Trump's pullback of troops from Syria has shaken nearly all of the adjoining nations, though many are being re-deployed elsewhere in the region. Sunni Turkey's brief invasion of Syria ended when severe US sanctions brought about a prolonged cease-fire. The Sunni Kurds whose enclave was invaded now seek assurances of protection. Sunni ISIS—which lost its last Syrian strong hold in March, and its leader last weekend—seeks to regroup.
Shiite Syria itself hopes to rely on its Russian and Shiite Iranian sponsors to crush Sunni ISIS for good, and to intimidate the Sunni Turks and Sunni Kurds. Neighboring Iraq and Lebanon—whose Muslims are split between Shiite and Sunni—are rocked by ongoing protests. Finally, little Israel faces new threats from Shiite Iran to destroy it within 30 minutes. That is, if either Israel or the US "make a mistake", says a top Iranian official.
All these adjoining nations and would-be nations have long lived in enmity towards each other. The US is growing tired of trying to act as arbiter or policeman in their "endless wars." But Scripture says one of these nations will at last emerge as the final arbiter and judge over the others…
Read more in ETG article Millennial Judgments for Nations at God's Temple
DailyInsight. We may judge actions when we have honest witnesses. But we cannot judge persons, because only Judge knows their hearts (See 1 Cor. 2:10-16).
BPN articles relatedto US troop pullback:
Related sources for US troop pullback:
IRANIAN OFFICIAL: "WE CAN DESTROY ISRAEL WITHIN 30 MINUTES"
Iraq declares Baghdad curfew as protests persist
Protesters form human chain across Lebanon