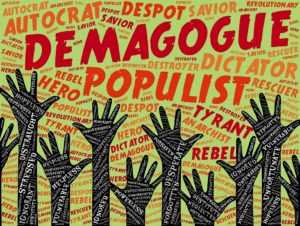 PRAY WITH US about Executive Coups: Father God, You make wars to cease to the ends of the earth. If You did not, violence would overcome the nations. Armed mobs would rule. Or they would lift up a false savior to lead their campaign. But You are exalted above the nations. For all true authority comes from You.
So make Your judgments known to all who are campaigning for change in Peru, Venezuela, Chile, Ecuador, Guatemala, Puerto Rico. And to all in South America who are seeking a champion. Reveal Your higher way to rise from poverty, to prosper and to increase the true government and peace that has no end. And show that this way is ultimately found in Christ. In Jesus' name, amen.
PRAYER ALERT:

Executive Coups Favored by 23% of Latin Americans
Twenty-three percent of Latin Americans support "executive coups", according to the Latin American Public Opinion Project—if such coups give their leaders power to solve vital issues. The issues include crime, poverty, food insecurity and corruption. Recently Peru's President Martin Vizcarra saw his approval ratings jump from 40 to 75 percent when he dissolved Peru's congress for not implementing his anti-corruption measures. Stubborn legislators who refused to leave the Legislative Palace finally did when a growing crowd demanded they do so.
The success of the crowd's pressure illustrates another trend. People are more willing now to keep agitating in the streets until the desired change actually takes place. Not only in Hong Kong, France and Venezuela, but also recently in Chile, Ecuador, Guatemala and Puerto Rico, we see masses demonstrating against their government not once, but day after day, week after week, month after month, or even year after year. While we can agree with their ends, we must take into account that democracy suffers as a consequence. The tyranny of both the autocrat and the mob will always tend to threaten not only democracy but the freedom of religion which democracy protects.  
DailyInsight. Free governments must enforce laws protecting the rights of the free. Otherwise, they will be overcome by lawless tyrants who will enforce tyrannical laws (see 1 Kings 21).
See End-Times Guide article:
BPN articles related to Executive Coups:
Trump Blasts Religious Persecution at UN
Statism rises, democracy wanes on 5 continents
Related sources for Executive Coups:
Latin America awash in troubles amid protests, uprisings and a distracted Washington
Latin Americans are dejected about democracy
Keyword: Executive Coups